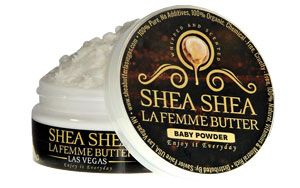 The creators of Shea Shea La Femme Butter are bringing retailers and consumers everywhere a new and innovative lotion that is sure to be a huge hit during the holiday season. Fusing together CBD and whipped shea butter, users can now enjoy the calming effects of CBD in a high quality moisturizer.
CBD Shea Butter Whipped Was Born
Founder of Shea Shea La Femme Butter, Gerard Barnes, created CBD Gold Spa Organics to bring his new and improved shea butter to the market. He was dealing with chronic pain and was searching for a non-prescription alternative to relieve his discomfort. With the help and guidance of wellness professionals, Gerard discovered CBD and experienced the benefits of immediate relief.
Gerard launched CBD Shea Butter Whipped in order to share this all-natural and effective compound with reliable and top quality products. The company has revolutionized the she butter experience just for users and their families by marrying two of the top external and internal healers of our time. They have also added botanical fragrances to enhance users' healing experiences.
The Essential Moisturizer
This Rolls-Royce of shea butter is perfect for everyday usage and comes in scented and unscented for those with sensitive skin. At this point in time when everyone has upped their cleanliness, CBD Gold Spa Organics is an essential that is needed in every home.
All of Gerard's shea butter products are made with all-natural, 100 percent organic ingredients, perfect for those health-conscious consumers who don't want to put any foreign chemicals in their bodies. The company's mission, as well as their sister company's mission, Shea Shea La Femme Butter, is to ensure that every person will experience the joy of bringing this organic product into their home to eliminate any and all health risk of unrecognizable product ingredients.
According to CBD Gold Spa Organic's website, CBD has been shown to be safe for humans, even in chronic doses as high as 1,500mg per day. Not only is CBD effective, but it produces very few side effects, which is why it has become so popular. To get started selling this essential CBD Shea Butter Whipped in your store today, call 808-782-6506.
CBD Gold Spa Organics
Web.: www.1cbd2sheabutter3.com