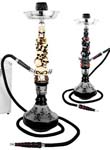 The hookah as a smoking device has enjoyed a surge of popularity in the U.S. recently, which puts Inhale International in a great position. "We started back in 1997 as a retailer of smoking articles, but then decided to get into wholesaling hookahs and tobacco products full time," says Rani Chaoui, CEO. "We started getting really busy and began concentrating more on the hookah itself, which at the time was not all that popular in the U.S.," he notes. Inhale began manufacturing in China, and was the first company to offer a line of polyresin hookahs. "This new type allows us to put more detail into the design," Chaoui says. "We made the first hookahs featuring skull and skeleton designs, and we're able to incorporate more colors in them," he adds. The company now holds more than 32 patents on its unique products.
Inhale International distributes its products across the country, as well as in France, Germany, Japan and more. Carrying over 10,000 different skus, the company also sells to smoke shops, small mom and pops, and various other independent retailers. One of its most popular sellers is a new line of molasses tobacco, which wholesales for $8 for a 250 gram sized can, and retails up to $20. Inhale International carries an extensive line of tobacco grinders, T-shirts, hats, candles, incense and more. There's no minimum order, and the firm offers a number of posters to advertise its various tobacco blends. For new customers, Inhale will offer some free merchandise to help offset shipping costs. "We're always looking for long term relationships," says Chaoui. "We also backup our goods 100 percent. If a customer is not happy, we'll take the item back or offer a refund."
For more information:
Inhale Corp.
P.O. Box 921
El Cajon, CA 92022
Tel.: 619-593-9125
Toll Free: 800-716-5777
Fax: 619-593-4107
Email: inhalesd@aol.com
Websites: www.wholesalecentral.com/inhale0001