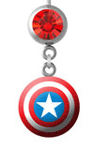 Accessorizing is about making a statement, and for people that want to customize that statement body jewelry makes it possible. SalesOne International has successfully spent a decade bringing such products to retailers that occupy specific niches in jewelry and accessories. Adding on to its successful marketing of licensed body jewelry, such as its Playboy Jewelry, SalesOne International will be carrying a complete line of Marvel Comics inspired and licensed body jewelry, available early August. The new license line will include plugs, tapers, belly rings, stud earrings and tattoo sleeves, which will highlight characters, icons or logos of both leading Marvel heroes and villains. As Joseph Won, licensing manager for SalesOne, says, "People like their villains too."
Customers Will MARVEL at Your Product
No matter a customer's favorite character or jewelry type, independent retailers such thrift stores, tattoo shops, and even mall kiosks can easily market to a growing number of Marvel film enthusiasts, by purchasing the licensed line between $2 to $5 wholesale and making keystone and more with a suggested retail price of $9.99 to $19.99. Among the Marvel characters represented by these body jewelry items are Captain America, Spiderman, Hulk and Red Skull. The 2011 and 2012 Marvel film releases, including Captain America and The Avengers, will turn fans into customers.
According to Won, "The product designs will concentrate on the key recognizable elements of each character, such as SpiderMan's eyes and the purple and green combo associated with the Hulk." A POP display starter kit will be available around the holiday season, displaying the Marvel brand and providing an assortment of body jewelry and characters, such as the Captain America dangle navel ring offered for $3.60 wholesale. Such items as the navel rings and the ear plugs are forecasted to be among the Marvel line's top sellers.
SalesOne, headquartered in Norwalk, CT, works closely with nearly 20,000 independent retailers. The company provides a broad selection of 12,000 SKUs and requires an order with a $100 minimum. The company's strength, however, is its fully integrated design, manufacturing, sales and distribution systems.
For more information:
SalesOne International
151 Woodward Ave.
Norwalk, CT 06854
Tel.: 866-507-2537
Website: www.salesone.org