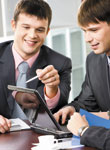 David Castlegrant & Associates (DCA) began as many independent retailers begin, with a dream, a tremendous amount of determination, and a will to succeed no matter what obstacles got in the way. This year, as DCA celebrates its 20th anniversary, the company has grown and, at times, re-invented and even morphed itself to meet the needs of its clients and the multitude of changes in the economy and technology. Castlegrant, the sole owner of DCA when it began, started the company with two clients referred by his business network and a previous job. He acted as a consultant in all facets of operating a small business, including project management, business process studies, strategic planning, feasibility studies, financial analysis, IS090000 mentorship, cube utilization and space management analysis. DCA still provides these services today.
In 1995, Castlegrant met Deborah Gantos, a colleague at Cleary University, who had a vast amount of experience and expertise in training, staff development, career counseling and human resources, just the skill set the company needed to expand. In 1997, Gantos became a partner in the business and married Castlegrant in 2000. Thus, DCA also became a family business. Gantos currently provides client services such as recruitment, retention and team building, as well as conflict, anger, change and stress management. As a licensed professional counselor specializing in family counseling, Gantos interacts successfully with small, family owned businesses. She also directs the business coaching department of DCA, working individually with executives and managers to enhance their communication skills, leadership abilities and personal characteristics, teaching them to create processes that will result in personal and professional growth. In addition, Gantos recently became Editor of Army Navy Military Expo News, a print and electronic trade journal. You can visit the online version at www.anmexpo.com.
As the years go by, David Castlegrant & Associates continues to grow and expand its services. Several years ago, a group of investors approached Castlegrant about creating and managing an entirely new trade show targeted solely towards the Army Navy Military industry. The show has grown exponentially and recently added another event held in Chicago July 23-24, at the Odeum Expo Center. The main show, scheduled every January, will be held at Tuscany Suites & Casino in Las Vegas, NV, January 13-16, 2013. For more details, please call DCA at 800-880-2485 or email Judy@dcastlegrant.com.
DCA also provides extensive web and graphic design services. The company's goal is to create visually stunning designs that will fit any budget and make a good first impression, ensuring that their brand is taken seriously. Along with graphic design and content development, DCA makes it easy and affordable for clients to implement tools such as blogging, ecommerce, email marketing and search engine optimization (SEO). Some of the products it offers are web design, CMS (Content Management Site) design, ecommerce site design, email marketing, print ad design, brand identity, business cards and stationery. DCA also specializes in low-cost, high-impact marketing. Many clients call upon the company to design, implement and/or enhance their marketing strategies and practices with coherent and consistent marketing campaigns that reach clients' target audiences. DCA's market research acumen and analytical skills are outstanding, making it an industry leader in market segmentation. Turning planning into practice, the company often serves clients via the design and delivery of on-target messages, utilizing a calculated balance of media outlets. Its graphic design staff develops and implements a wide range of print, broadcast, electronic, promotional and advertising material for clients.
The professionals at David Castlegrant & Associates have more than 25 years' experience helping clients achieve their goals, hire competent, motivated employees, and bring their businesses into the 21st century by utilizing emarketing and esales. DCA's experts also hold faculty positions at a business-focused university, where they utilize cutting edge theory, applying it practically in a global business environment. But perhaps the one thing of which the company is most proud, is the family it has created with a combination of wonderful clients and dedicated staff, who are friendly, helpful, caring and proud of the work they do. Give DCA a call and see for yourself.
For more information:
David Castlegrant & Associates
3317 Old US 23 South Suite B
Brighton, MI 48114
Tel.: 800-880-2485 or 810-225-9801
Website: www.dcastlegrant.com