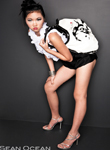 Technology and fashion are changing almost daily, and it is very hard and expensive to keep up with the changes. What is the best bet now for retailers? Rosanna Tran, vice president and designer of Aliz International, Inc. says retailers have no worries, as they can order merchandise in small quantities and test the market. The important thing is to find a supplier that listens to your needs and is able to provide good service and a variety of merchandise.
For manufacturers and importers, it is not an easy task to keep up with the changing market and to take control of inventories.
Aliz has been in the handbags manufacturing and importing business for almost 20 years, and has its own strategies to cope with the demanding market. The company understands that not every consumer is the same, and they all have their own "purseonality." Undoubtedly, it is important to freshen up with the, "Look of today." The newest, trendiest fashion handbags cater to the divas who account for about fifty percent of sales. On the other hand, classy and timeless functional handbags are never out of the market, and they are total necessities for everyday use.
Handbags from Aliz International, Inc. offer good quality and very reasonable price points. Licensed celebrity image bags like Elvis Presley ™, Betty Boop ™, Lucille Ball ™ and Marilyn Monroe(tm) are a profitable additional category for any retailer. These fun, whimsical and unique handbags are one of a kind, and are always available only in limited quantities. They are great sellers for both personal use and gift items, and brighten up all outfits.
This year, Aliz International Inc. is launching all new Fall 2010 collections, including sassy IT- bags, classy functional bags and tons of new images for licensed celebrity bags. Aliz is exhibiting at the ASD Variety Merchandise Show at Las Vegas Convention Center in August. The company has two locations from coast to coast to serve your needs, and their friendly staff is always available to answer questions.
For more information:
Aliz International, Inc.
11136 Satellite Blvd.,
Orlando, FL 32837
Tel.: 407-438-8816
Website: www.alizbags.com