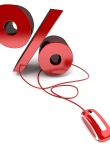 States struggling to close growing budget deficits are likely to take greater aim at online sales firms that do not collect sales taxes, an official with the Direct Marketing Association has said.
"States have targeted this industry. Over the next 12 to 18 months, we will get a clearer definition of where the battle lines are drawn," George Isaacson, tax counsel for the DMA, said during a policy conference sponsored by the group. The DMA has challenged a Colorado law that would require online retailers and catalog companies to turn over the names and purchasing information of their customers to state revenue officials. A federal district court recently issued a preliminary injunction barring enforcement of the law.
The story is being closely watched by the Alliance for Main Street Fairness (AMSF), "an organization committed to educating private citizens, small businesses and elected officials about common-sense updates that can be made to our tax system to ensure there is a level playing field for both small businesses and online-only retailers concerning the collection of sales taxes," the group says on its website.
The AMSF is currently looking for small business owners to join its ranks and help in the fight for sales tax fairness.
Too see more on this story, click HERE. To help join the fight with the AMSF, click HERE.