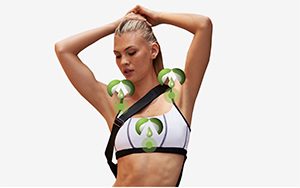 From lotions and face scrubs to coffee and edibles, CBD has been making a grand appearance in just about everything. The more creative companies get with how they sell their CBD products, the more flustered and crazed consumers get with needing the latest merchandise. And now, CBD is wading into the waters of athletic apparel.
How It "Works"
In August, Acabada Activewear launched the world's first and only CBD-infused activewear line. This 12-piece collection, called ProActiveWear, includes leggings, a jumpsuit, sports bras, bike shorts and more. The pieces are made "using high-performance fabrics that are strategically infused with up to 25 grams of zero-THC, lab-certified, 99.9% pure CBD," according to the brand.
If you're just like us and wondering exactly how it works, listen up: CBD droplets, which are wrapped in a polymer coating to protect them from evaporation, are embedded in the fabric, and then released onto the skin via friction and movement. According to the website, the CBD's effects last through 40 wash cycles. This CBD-infused clothing is a new way to fight soreness and promote healing before activity even begins.
Does It Really Work?
CBD is known to have pain and inflammation reducing properties, which is why it sounds like a good idea to incorporate into a clothing line, but does it actually help to soothe and recover your muscles while working out? The problem with Acabada's clothing line is that there hasn't been a controlled, scientific study to figure out the effects of the clothing.
A woman who tested the activewear said that they didn't really improve her workout. She was still tired and sore after, and said she could probably get the same benefits just from using a CBD tincture.
It's Difficult to Regulate CBD-Infused Clothing
Darria Gillespie, a board-certified emergency department physician, says her biggest concern is the lack of CBD regulation in the clothing. There's no way to determine how much CBD will be released or if it will actually bring any positive effects to the user. "When we do things where we release medications into your bloodstream, we know exactly how much someone is going to absorb over a given time point. With activewear, there's absolutely no way to regulate how much someone will get," she says.
Another issue with the CBD-infused clothing is that the prices start at $120 for clothing that's only good for about 40 uses. If someone works out two days a week, that means the garment is no longer effective after five months. Spending an average of $150 for activewear every five months seems a bit excessive, especially if the effects don't work as well as Acabada makes it seem.
That's All, Folks
Acabada is the only brand dabbing into the CBD-infused business thus far, so there's no way to compare the effectiveness of the product. It's definitely an interesting discovery, and professionals say this type of product could be successful with the right amount of research, but only time will tell.