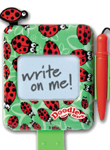 Just as teachers have been emphasizing for decades, research has proven that children who write as they read show a marked improvement in their literacy skills. Launched in 2010, DoodleMark, a bookmark redefined, is an interactive tool for young and early readers to increase reading comprehension and retention. The DoodleMark clips to any book and comes with a high resolution, magic erase pad, which children and parents can interact with during story time. Whether practicing words together, working on vocabulary, drawing letters, bookmarking progress or just doodling a funny picture, it's all about creative learning.
Award-Winning Educational Fun
DoodleMark is becoming a favorite new literacy tool, honored with multiple awards including Mom's Choice Award 2011, Product of the Year 2011 from Creative Child Magazine, Best Picks Children's Products Award 2011 from Dr. Toy, as well as a Seal of Approval from National Parenting Center. "We're proud of the national recognition DoodleMark has received, which confirms the reason the product was created," says David Keefe, inventor of the DoodleMark. "Reading and writing serve as the foundation for educational and personal growth for children, and DoodleMark strengthens that foundation while being all about fun." And now with a reseller program, retailers can also be a part of higher learning, supporting education and fun with the new product line.
In the age of techno-toys, DoodleMark is a battery and gaming cartridge-free toy, making it an ideal and simple gift item, and perfect merchandise for specialty retailers such as independent bookstores, gift shops and drug stores. Wholesaling for under $5, retailers can expect a healthy profit margin while meeting their consumers' needs, at a retail price of under $10. DoodleMark is available in four fun designs: Li'l Ladybug, Jungle Fun, Wild Racer and a new tie dye design, Doodle Power. Each design can be ordered in a 24 piece case, a 12 piece reorder case, a 24 piece assorted counter display, or a 36 piece assorted case.
For more information:
ReMarkable Reading Concepts, LLC
PO Box 487
Wilton, CT 06897
Toll Free: 855-436-6353
Website: www.doodlemark.com