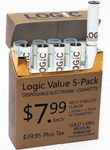 Retailers looking to address both the health and cost concerns of their tobacco and nicotine craving customers have increasingly invested in electronic cigarettes (e-cig). Among those manufacturers making headway in this new market is LOGIC, a New Jersey based e-cigarette company. LOGIC produces LOGIC disposable e-cigs as a revolutionary alternative to avoid the 4,000 toxins that are in cigarettes, while replicating the entire sensory experience that smokers enjoy. Wholesaling for $5.95 per unit, with a required minimum order of one box containing 24 units, LOGIC e-cigs have become quickly accepted as a national brand, available in over 20,000 locations in less than one year. The product is a good investment for store owners, offering a 40 percent gross profit ($4 profit per unit). LOGIC store sales out sell other brands two to five times, moving 20 to 80 units per week, per store.
Cigar Smoking Alternative
While such an alternative allows the estimated 45.9 million U.S. cigarette smokers to view their cigarette lighting as a pleasurable pastime, an act of de-stressing, as well as a form of social interaction without the looming harm of toxins, what about those 13.3 million U.S. smokers who enjoy cigars? Among the company's latest products is The Cuban electronic cigar. With over a year in development, The Cuban was made to look, taste and smell like a real cigar. With 1.8 percent nicotine by volume, it is mild and medium flavored, with rich, thick vapor and a unique sweet tobacco aroma. "The company sold out within 10 days of the product's release," says Howard Panes, founder of LOGIC. The Cuban is good for about 1,000 puffs, or seven to ten traditional cigars. Like LOGIC's disposable e-cigs, The Cuban is a disposable alternative that eliminates the lingering smell, second-hand smoke, ash, and environmental pollution of tobacco cigars. For a retail cost under $20, The Cuban proves to be a sound investment for retailers and their customers alike. "This product sells itself, plain and simple," notes Panes.
LOGIC's impact on the smoking community doesn't stop there, as it also has released the LOGIC 5 Value Pack. The pack holds five disposable e-cigs, pre-packed for a one week's supply. Panes adds, "We focus on keeping our products at a high level of quality, and on introducing the best line to the market." In addition to its already popular e-cig lines, LOGIC Black Label, Gold Label, Sterling Label and Zero, heavy smokers can now enjoy the new Platinum Label, with its 24 mg of nicotine. "This label also comes in the traditional tobacco and menthol flavors as our other lines. We are projecting great sales on this product," notes Panes.
For more information:
LOGIC Technology Development LLC
615 South Livingston Ave.
Livingston, NJ 07039
Tel.: 973-251-2087
Website: www.LogicEcig.com