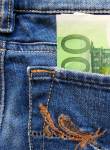 The era of cheap jeans may be ending as U.S. apparel retailers take advantage of the economic recovery to boost prices on some products for the first time in more than a decade. The increases may contribute to a slowing in consumer spending, while not fully offsetting record cotton costs, higher wages in China and rising freight charges that are squeezing margins.
"For all retailers and all wholesalers, we're flying into unknown territory, because we haven't seen price increases, we've actually seen price decreases, in the past 10 to 15 years," Blake Jorgensen, chief financial officer of Levi Strauss & Co., which supplies jeans to retailers in more than 110 countries, told Bloomberg.com. The San Francisco-based company raised spring prices on some namesake pants and plans increases for fall, said Jorgensen, who declined to provide details. Americans paid less on average for jeans in 2010 than the previous two years, according to a consumer survey by NPD Group, a Port Washington, New York-based research firm. The average price was $19.32 last year, down from $19.64 in 2009 and $19.73 in 2008.
Consumer spending cooled more than forecast in January as rising food and fuel costs caused Americans to cut back on trips to malls and restaurants. Higher price tags on apparel might exacerbate that trend, creating a "taking from Peter to give to Paul" phenomenon, said Michael Feroli,  chief U.S. economist at JPMorgan Chase & Co. in New York.
For the complete story, as well as a look other forecasts for the year, click HERE.