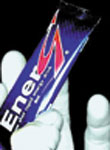 It turns out that you really can have it all. New Life Pharma recently introduced a new green tea flavor to its powerful energy shot, EnerG, which delivers as much caffeine as three cups of coffee, along with one of nature's most potent B vitamin compounds, niacin. What goes in the product, however, is as important as what is left out. Marketing executive, Danielle Tracy, explains that the absence of sugar and calories makes EnerG appealing to those who want clean, guiltless energy, while the formula, free of other stimulants, makes it marketable worldwide.
One standout feature of EnerG is its size, weighing in at just eight milliliters. It is also the only shot that comes in a stick pack form. EnerG delivers a controlled release dose of "get up and go" to your body. "The Wild Berry was our original product," Tracy says, "It took about four years to formulate before hitting the market a year ago. We came out with a new green tea flavor that actually has green tea extract in it, so the new one has the additional antioxidant benefit of that natural extract."
New Life Pharma formulates and manufactures everything in its FDA approved building. "EnerG only has four ingredients, so it's very much a case of what you see is what you get, which reassures people," Tracy expresses. "There's no taurine or guarana in it, and when you read the label you recognize everything and know exactly what you're putting into your body. No other energy shot out there does that. We are very conscious of health and standards."
Suggested retail of one EnerG shot is $1.69, which is less expensive than many comparable shots and beverages designed to deliver intense alertness. A box of 20 EnerG shots wholesales for $22.50, and there is no minimum order. New Life Pharma will discount based on volume tiers of 5,000, and new customers who mention Independent Retailer magazine when they order will receive complimentary second day shipping.
For more information:
New Life Pharma
153 Walnut Street
Northvale, NJ 07647
Tel.: 201-669-0600
Website: www.energnow.com