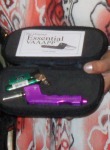 For those times when you might want a relaxation break but don't want to deal with noxious smoke clouds around your head, it's worth checking out the newest vapor-inhalation offering from Essential Herbal Technologies, the Essential Vaaapp EV101 (pronounced "vape"). The company is run by Whitedeer, CEO of the Petaluma, CA, company, and offers this finely tuned vaporizer that's ideal for a wide variety of medicinal botanicals. EHT was founded in April of 2009 and has been growing steadily ever since.
The EV101 is completely portable, and there are no electric or critical moving parts to break. The unit is machined from solid aluminum and is anodized inside and out. Anodizing is a molecular oxide coating, which seals in any leachable metals within the alloy, making it a food-grade finish. The EV101 is virtually indestructible, giving the user years of convenient vaporizing.
"A friend of mine came up with the prototype, and as soon as I saw it I was intrigued," Whitedeer said. "I decided to invest my personal savings in it, and we took it to a machine shop for some different designs. We had our finished model in just a couple of months." The unit was an immediate hit, winning First Place this year as Best Product in High Times magazine's Medical Cannabis Cup competition. It's a handheld portable that utilizes a one-dram glass vial as the reaction chamber, and the vial is removable for easy cleaning and refilling.
Available in ten different solid colors, or in an "art nebula" design, the vaporizer wholesales for $45 each for a minimum of ten, and retails for $89.95. Discounts are available ($35 to $38 each) for 100 pieces or more, depending on volume. Each unit comes with its own carrying case, which acts as its display.
Whitedeer says his company is working on a new design that utilizes body heat to vaporize essential oils. With production expected to commence in 2011, the unit will be used for treating asthma or other breathing difficulties.
For more information:
Essential Herbal Technologies
5004 Petaluma Boulevard N., Suite 5
Petaluma, CA 94952
Tel: 707-490-2324
Website: essentialvape.com