By Mike Auger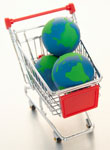 Ever think about marketing your online products or services to the global marketplace? Global B2C ecommerce sales are expected to hit $1.5 trillion in 2014, according to emarketer.com. Emerging markets like Brazil, Russia, India and China are fueling this anticipated growth, along with an ever-increasing mobile user base and smartphone access/demand. Creating a storefront that has an international appeal could be a key to increasing your company's bottom line. Things to consider:
Multi language capability
Support for multiple currencies
Payment gateway able to transact internationally
Shipping methods for international orders
Multiple languages
Providing a way for your online store to be viewed in multiple languages opens your site up to an entirely new customer base you may not have considered before. Using Google Translate is a good option, but so is having the native language template installed to your store. This allows customers to see your product or service in the language and currency most comfortable to them. Increased conversion rates for international orders have been seen on sites that simply added a second or third or fourth language, and currency option.
Payment gateways
Thinking about payment gateways and international transactions, including an alternative method to process orders, can also help increase international order conversions. Take a look at two well-known international payment processors, Skrill, www.skrill.com, and 2CO, www.2checkout.com/faq, that can be easily integrated into your online store.
Shipping
Shipping methods must also be something that is important when thinking of delivering orders to an international customer base. Dealing with taxes, tariffs and import and export fees may be something to think about. A solution for this scenario is Bongo, www.bongous.com. Bongo provides an excellent service to allow US based businesses to ship internationally from a U.S. address/location.
Marketing and SEO
Marketing and SEO options are something to also take into account if looking for additional customers outside of the U.S. Certain products or services may be more suited to international customers, and as such, appropriate key words and meta data should be included on those product and category pages to obtain the most favorable international search results. Testimonials and reviews from international customers can also help increase order conversions in overseas markets.
Live chat feature
Other areas of your business you should consider when thinking about international customers include the time differences, and your ability to meet customer expectations. Are your UK based customers expecting to be able to reach you by phone when it is 4 pm in London? Perhaps instituting a Live Chat feature on your site for those non-U.S. customers to leave a message after hours is a good solution.