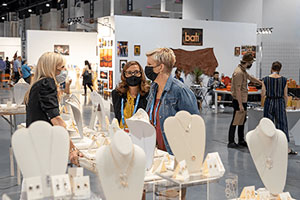 Expansion in resources and programming is positioning Las Vegas Market as Summer 2022's premier opportunity to source top furniture, gifts, and décor with new products from top lines complemented by engaging education and events. Taking place July 24-28 at the World Market Center in Las Vegas, this market offers buyers, designers, and exhibitors a compelling market experience.
"Buyers love Las Vegas Market for the total cross-merchandise buying from must-have lines," Bob Maricich, International Market Centers (IMC) CEO, said in a press release. "These robust discovery opportunities, combined with proprietary programming and a celebratory atmosphere, will create a market like none other this summer."
Robust Resources
Las Vegas Market will offer thousands of furniture, gifts, and décor resources in hundreds of permanent showrooms and temporary exhibits across four buildings on the World Market Center Las Vegas campus – Buildings A, B, and C and the Expo at World Market Center Las Vegas.
Las Vegas Market's temporary exhibits will fill the Expo at World Market Center Las Vegas with their largest presentation to date. Hundreds of brands will be featured in six categories: Design, Gift, Immediate Delivery (Cash & Carry), Handmade, Home, and Luxe, plus a new pavilion for values-based brands connected with IMC's acquisition of the Dough network. A full list of Las Vegas Market exhibitors can be found at LasVegasMarket.com/exhibitor/exhibitor-directory.
Energizing Events and Celebrations
The Summer 2022 Las Vegas Market will be buzzing with a full roster of must-see seminars tailored to west coast buyers anchored by IMC's proprietary FIRST LOOK trend program. The to-be-announced programming will feature thought leader presentations and gatherings, including a market kickoff celebration in the courtyard and the return of floor parties. Also on tap are product displays, photo-ops, and more.
JuniperMarket by IMC — the industry's newest B2B wholesale buying platform — will be at the heart of the market welcoming buyers to the JuniperMarket Preview Pod in the courtyard for a dynamic visual overview of the platform and the opportunity to sign-up. JuniperMarket also will offer photo ops, product displays, and giveaways throughout the event. Sellers are invited to visit the Juniper showroom (C174) to sign up and start selling on JuniperMarket and to learn more about the JuniperCommerce suite of SaaS tools, which empower sales teams, streamline product data management, and deliver real-time visibility across channels.
For Summer 2022, permanent showrooms (Buildings A, B & C) are open Sunday, July 24 – Thursday, July 28. The Gift & Home Temporaries (located in The Expo at World Market Center Las Vegas, adjacent to Building C) are open Sunday, July 24 – Wednesday, July 27. Home Furnishings Temporaries (Building B, Floor 2) are open Sunday, July 24 – Thursday, July 28. Registration is open now at LasVegasMarket.com.