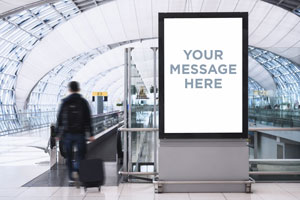 by Paul Brenner
Virtual shopping hit record highs during the pandemic, but as vaccination distribution increases and COVID-19 cases decline, consumers are starting to return to their favorite brick-and-mortar stores.
Ninety-four percent of all industry sales today occur in a physical retail setting. While ecommerce remains a popular shopping channel, shoppers seek varied interactions with brands — social media ads, ecommerce apps, billboards, print ads, and contextual ads in-store. Brands recognize that to successfully drive purchases, they must reach consumers across the sales funnel with a connected commerce approach. When traditional marketing channels pair with targeted, personalized ads aligned with local store inventory, retailers are able to maximize their customer interactions.
Optimizing Customer Engagement & Maximizing Retailers' Spend
An emerging trend in the retail space is the increased adoption of Audio Out-Of-Home (OOH) advertising. With 82 percent of grocery shoppers and 76 percent of pharmacy customers primarily purchasing products in-store, the ads playing between songs can target customers actively shopping within the store.
Shoppers who hear an Audio OOH advertisement have a 77 percent propensity to purchase the advertised item. Because advertisers can customize campaigns based on current inventory, there is little risk of promoting products that are unavailable at a specific location. Other customer data, such as demographic information such as age, gender, and lifestyle, can inform ad choice and scheduling — optimizing each advertisement for a more significant impact.
Audio OOH solutions provide sales insights and performance data for retailers' visibility into how specific ads impact customer behaviors, empowering retailers to update ads in real-time based on performance. With traditional media, changing tactics mid-campaign can be costly. Instead of having to worry about lost printing or advertisement installation costs if a campaign needs to pivot, audio OOH's programmatic capabilities allow for adaptability and seamless integration of new messages.
Audio OOH provides another tool for advertisers and retailers to boost in-store sales through optimized customer engagement. This strategy also offers monetization opportunities with external advertisers — adding an additional revenue stream for retailers.
Retail Media is a Win-Win
Customers expect a more immersive retail experience in a post-pandemic world. To remain competitive with ecommerce, the retail space must continue innovating to enhance customer engagement while optimizing sales. Customers want to interact with advertisements for products they can actually purchase instantaneously and avoid the frustration of supply chain issues standing between them and their desired item.
By leveraging programmatic ad capabilities like audio in-store, retailers bolster their retail media campaigns without dipping too deeply into their marketing budgets — simultaneously adding a valuable layer to consumers' in-store brand experiences.
With more than 25 years of experience in media & entertainment and technology leadership, Paul Brenner served in several c-suite roles, including division President with Emmis Operating Company[NASDAQ:EMMS]. As President of NextRadio/TagStation, his work focused on global innovation through FM Chip activations in all smartphones for audience measurement, improved in-car user experiences, and data attribution platforms for all broadcast radio.