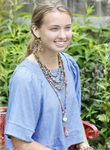 Fair trade is a social movement with a goal of helping artisans, makers, farmers, and producers, usually in developing countries, realize better trading conditions and promote sustainability. It's a way of doing business that promotes respect and tries to draw a clearer, straighter line between the maker of a product and the end consumer in international trade. The World Fair Trade Organization prescribes ten principles that fair trade organizations should follow in order to ensure actual fair trade practices. The ten principles are:
1. Opportunities for Disadvantaged Producers
Fair trade aims to reduce poverty by supporting small producers such as family businesses, associations, and cooperatives and enabling them to move away from income insecurity and into self-sufficiency.
2. Transparency and Accountability
Management needs to be transparent and accountable. Employees, members, and producers are all involved in any decision-making processes and there are healthy communication channels throughout the supply chain.
3. Fair Trade Practices
Companies do not maximize profit at the expense of the producers, makers, farmers, or artisans that supply products. The social, environments and economic wellbeing of small producers are taken into consideration.
4. Fair Payment
All payments are fair prices that are mutually agreed upon by all.
5. No Child Labor, No Forced Labor
Adheres to all national and local laws, as well as the UN Convention on the Rights of the Child.
6. No Discrimination, Gender Equity, and Freedom of Association
The organization does not discriminate in hiring, access to training, promotions, termination, or retirement based on race, social class, religion, nation of origin, disability, gender, sexual orientation, political affiliation, age, etc. There are policies to promote gender equality, and the organization respects the rights of all employees to form and join trade unions of their choice.
7. Good Working Conditions
Fair Trade companies provide safe and healthy working environments for all employees.
8. Capacity Building
Fair trade companies develop the skills and capabilities of employees and members for their own personal growth.
9. Promote Fair Trade
Raises awareness for greater justice in world trade through Fair Trade.
10. Respect the Environment
Fair trade organizations maximize use of raw materials from sustainably managed sources, and always buy local when possible.
In the United States, the Fair Trade Federation and Fair Trade USA are two of the largest nonprofits advocating for the fair trade industry and certifying fair trade businesses. Their values and principals are based on those of the World Fair Trade Organization. Fair trade is an important movement that empowers people in other countries, especially women and children. It helps grow small businesses around the world, by bypassing the middleman and larger manufacturers big retailers typically purchase from. As an independent retailer reselling fair trade products, you are helping to support other small businesses.
In addition to helping the small business cause, fair trade products are beneficial to your business because they give you an edge over chain and mass-market retailers. Fair trade products are usually handmade, so each item is unique. It's a way to offer a different kind of product from competitors. Each item has a story behind it and shows customers your commitment to giving back.
Choosing Fair Trade Suppliers
When it comes to choosing a fair trade supplier, there are several things to keep in mind. Of course, selecting merchandise that suits your demographic, and prices that fit your budgets are a no-brainer. You will also want a supplier who has strong connections to the artisans they partner with for products. There are many suppliers who are certified as fair trade from the Fair Trade Federation and Fair Trade USA. However, there are many who have not filed for certification, yet still adhere to fair trade guidelines. As a retailer, it is up to you to use your best judgment and ask questions when selecting fair trade suppliers. To get you started, here are five of Independent Retailer's favorite fair trade suppliers:
WorldFinds
WorldFinds' mission is to create positive change, build hope, and design beautiful, sustainable products for a better world. It's a business using fashion and design to combat poverty. Kelly Weinberger, the founder of WorldFinds, got the idea to start her company after discovering the concept of fair trade and seeing its impact after leaving her job to travel around the world. Now, Weinberger partners with nearly 900 independent retail locations across the United States and abroad, and several artisan groups from India, Indonesia, and Nepal which she visits regularly. As a result of their business partnership, the artisan groups have been able to hire more women, improve educational programs, send children to school, and expand healthcare initiatives.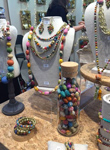 WorldFinds offers retailers a variety of quality designed, handmade jewelry, accessories, scarves, knitwear, and holiday ornaments. "Most of our fair trade products come with story cards," says Weinberger. "That say how they're made, where they're from, and it puts a face on the product. Many consumers like seeing a face on a product, instead of a factory."
Colorful, repurposed jewelry products are a top seller for WorldFinds. "It's a textile jewelry collection," explains Weinberger. "So, it's colorful and eco-friendly because we're using leftover and scrap textile." Weinberger continues that fair trade is an excellent opportunity for independent retailers because it's a way of differentiating from the competition. Fair trade products are all handmade, all unique, they are more tactile than regularly manufactured products, and they have an interesting story behind them. She says carrying fair trade also "shows a social conscience," which is appealing to many shoppers who are already making an effort to shop from independent stores. Weinberger says fair trade is the "high bar of sourcing," and that WorldFinds still has "very friendly price points and good margins for retailers." For more information, visit ww.worldfinds.com.
WorldFinds
800-609–9303
www.worldfinds.com
---
Gifts With A Cause
Liz Allen, founder of Gifts With A Cause and Stephanie Rivera, director of media, report that to them, fair trade is "incorporating sustainable development in all stages of the production cycle to create high quality and unique products." By carrying fair trade products, retailers are showing "A support of sustainability, commitment to having a positive impact and providing a hand up from poverty." For shoppers, fair trade is, "A feel good purchase that adds a lot of value, especially for gift-giving," explains Allen and Rivera.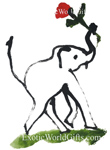 Gifts With A Cause offers jewelry, scarves, purses, home décor, and most notably, elephant art. "You don't have to be human to be an artisan," continues Allen. This specific group of Thai elephants actually paints portraits of elephants, plants, and flowers. Every purchase of an elephant painting goes towards supporting elephants in a conservation camp in Thailand. The paintings are a unique home décor statement that is sure to stand out and invite questions in your store, and in the shopper's home. Their scarves are also very popular and tactile options and are available in a variety of weights, styles, colors, patterns, and textures. Gifts With A Cause offers counter displays and many display ideas and inspirations. Like all fair trade products, items from Gifts With A Cause are all handmade.
Gifts With A Cause
858-334–8308
www.giftswithacause.com
---
Global Crafts
"Fair trade is a chance to level the playing field as it relates to international trade by providing opportunities for marginalized small-scale artisans and farmers to lift themselves out of poverty," says Renice Jones, co-founder of Global Crafts. "As conscience consumerism grows, people want to know more about who makes the products and fair trade is an assurance that the products were made ethically." Global Crafts has an amazing array of products from more than twenty countries including clothing, instruments, jewelry, soap and incense, yoga accessories, stationary, books, and more. Many are made from recycled products, and all are handmade. "Fair trade products give retailers the opportunity to tell the story of each product. Shoppers pick up the handmade products because of their quality, then read the tag about the artisan, or are surprised because of the unique, often recycled material and all those factors add even more value to the product," says Jones.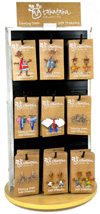 Global Craft is dedicated to providing excellent service and materials to all of their retail customers. "It is the responsibility of the fair trade wholesaler to provide retailers with compelling POS material, engaging shelf information, and unobtrusive-yet-informative product tags. The Fair Trade Federation, a trade organization made up of accredited fair trade wholesalers and retailers, has material available describing the holistic approach to trade to which its members are committed that helps present the fair trade message to the staff and consumers," continues Jones. "Fair trade products really give the retailer a chance to engage with the public."
Global Crafts
866-468–3438
www.globalcraftsb2b.com
---
BeadWORKS
Beadworks supports women, wildlife, communities, and conservation. "BeadWORKS creates opportunities for pastoralist women in northern Kenya to translate their traditional skills into much-needed income," says strategic marketing and product development manager Joanna Brown. BeadWORKS is a sustainable source of income for the women and communities it works with. This income enables the women to survive and improve their families' lives, without resorting to environmentally damaging activities such as charcoal production, or overburdening their fragile grasslands with sheep and goats. When women have reliable incomes, which are independent of unpredictable rainfall, communities and wildlife are able to thrive together.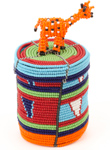 BeadWORKS offers several lines different and colorful jewelry, home wear, gift, and holiday products. Their popular line of friendship bracelets, called "Care, Wear, Share," is a pack of three beaded bracelets made with glass beads on elastic thread. They are available in many different colors and patterns, and are perfect for wearing all at once, or sharing with friends. Custom designs and custom products are also available.
BeadWORKS
www.beadworkskenya.com
---
For the Love of Gourds
"The art of gourd carving began thousands of years ago in some of the most remote villages of South America," explains Sue Pickvet, owner of For the Love of Gourds. "My fascination with this art form over the last ten years has led me on an exciting adventure to uncover the amazing gourd artists and get a first-hand look at how they create their artwork. Through my travels to South America, I have been fortunate to find a talented young artist to work with me. Some of the gourds on my website are my design and creation. Others are by the gourd artist and his wonderful family."

For the Love of Gourds offers hand painted, crafted, and carved gourd products including ornaments, jewelry, boxes, purses, hair accessories, birdhouses, bowls, key-chains, decorations, and more. All items are completely original, and suggestions or requests are welcome.
For the Love of Gourds
419-206–0511
www.loveofgourds.com