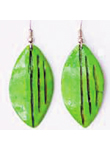 It's no secret that "green" is red hot. You've surely noticed the marketing campaigns and retail trends that appeal to consumers' eco-conscience, and small businesses can't afford to ignore the profit possibilities. Here's something else you already know: the big boys have cornered the discount goods market. There's no way to top the buying power of chain stores without undercutting your own bottom line. Small retailers must set themselves apart in order to survive, and buying the same mass produced and cheaply made merchandise as your competition will not achieve that goal.
Enter Fair Trade products: items made in developing countries by artisans treated and paid fairly for their work. Think of it as a step above charity. Instead of just giving money to the needy, Fair Trade provides individuals the means to provide for themselves. Fair Trade is a win-win-win. It's good for the environment, as items produced are typically made using reclaimed, recycled, and sustainable resources. It's good for the artisans, who might otherwise struggle to provide for themselves and their families in a harsh global economy. And it's good for retailers and consumers, who receive high quality, handmade goods, free from the stigma of unfair labor practices associated with mass produced or sweatshop made accessories.
My first exposure to Fair Trade products was all indigenous scarves and rough hewn artifacts; not at all something you'd find in a high end boutique catering to the eco and fashion conscious. But many of these artisan co-ops have come a long way, now working with designers and wholesalers to create lines of jewelry and handbags, for instance, that appeal to American consumers, while retaining their uniquely handmade feel. Women who buy Fair Trade jewelry generally want to be stopped on the street for the purpose of compliments, not critiques, and producers are responding with fun and funky pieces that rival the hottest couture designers.
Wholesale Fair Trade accessories, such as recycled tire coin purses and earrings made from coconut shells, can be readily found online at RevyDirect.com, an American company specializing in El Salvadoran Fair Trade goods. They work directly with their artisan co-ops to design and redesign authentic and fashion forward bags and jewelry.
Getting down to brass tacks, the numbers show that higher income consumers tend to buy more eco-conscious products. For the average retailer, that means higher quality eco-goods, including Fair Trade products that will attract a more affluent set of customers, and of course their pocketbooks.
Also, you don't have to be a specialty "green" shop to profit from Fair Trade goods, available in a wide variety of products, from coffee to cuff bracelets. Even if you only carry a small selection of Fair Trade products, like a dozen or so different pieces of jewelry, your customers are sure to recognize your eco-IQ, thereby elevating the rest of your merchandise.
For retailers truly committed to cornering the green goods market, Fair Trade merchandise is the Holy Grail of them all, fulfilling the green criteria from start to finish. They are good for the Earth and good for the people of the world. When your customer feels good about a purchase, you can be sure they'll gladly repeat it.
For more information:
Monica Stein
Revy Fair Trade Products
Tel.: 216-765-8117
Website: RevyDirect.com