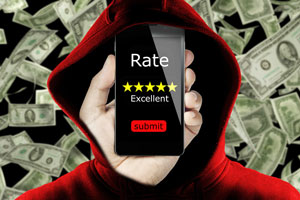 With ecommerce transactions continuing to grow, fake reviews are an increasing concern for shoppers. According to a nationally representative survey of 2,057 U.S. adults conducted by CR in November, 239 million Americans read online reviews before making a purchase decision. Yet, more than three out of four (79%) say there have been times when they have read a review and thought it was fake.
Fake Reviews Cause Distrust with Consumers
Amazon has been dealing with the ongoing issue of fake reviews for years, and they continue to crack down on the practice. In May, it removed listings for electronics sold by Aukey and Mpow amid reports that the companies had engaged in incentivized review schemes where shoppers accept refunds and gift cards in exchange for positive reviews, according to CNET. Because of this problem, Amazon has lost some trust from consumers in their reviews, and while the ecommerce conglomerate can afford some distrust with their shoppers, smaller retailers cannot.
"Consumers are looking for guidance and reassurance before making a purchase decision. This is especially true for categories with a high-price point and/or where consumers may have specific needs such as electronics or appliances," Vincenzo DiGiorolamo, Director of U.S. Reports at Mintel, said. "With consumers relying more heavily on reviews, they are going to want to ensure the reviews they are reading are accurate and honest."
How to Deal With Fake Reviews
If you see a fake online review either about your brand or one of your products, here are some quick tips for dealing with the deceptive comment:
Remain Professional.
Stumbling across a blatantly fake review can be one of the most infuriating things. You put hard work into running your business, and for someone to try ruining your reputation can feel like a blow to the gut. Before you handle anything, always remember to remain as calm and professional as possible, because no matter how rude the fraudulent comment was, you are representing your brand and should not cause any more problems by responding to the review in an equally rude manner.
Attempt to Remove the Review.
If the review is on your website, you have more control over what shoppers can see and can simply remove the comment, but if it is located on another website such as Google or Yelp, it is not that easy. Review sites cannot simply take down every post that a business does not like, and it is your word against the consumer's. Still attempt to contact customer service and see if the review can at least be assessed, and depending on their process, you may be able to eventually get the comment removed.
Respond Publicly to the Review.
Similarly to negative reviews, if you respond in a calm and professional manner to a fake post about your brand, shoppers will be able to see your customer service skills firsthand. This will help to build trust with consumers, because if they see you are reacting to fake reviews, they are more likely to believe the other reviews they find about your brand and products. There is no way to truly prevent fake reviews from plaguing your business, but building trust with your customers is key to getting around the issue.
Encourage Positive Reviews.
If you receive a steady amount of reviews from shoppers, it can push the negative ones to the wayside if you cannot get it removed. Always encourage customers to leave positive reviews if they are happy with your products by either sending a follow-up email after they make a purchase reminding them to leave a review, or by simply leaving a friendly postcard in a package from online purchases reminding them to leave a review.
Fraudulent reviews will not be going away anytime soon, so it is crucial for independent retailers to act on them fast in order to build consumer trust. Always have yourself or an employee checking your brand's website, along with others, to catch these negative posts and act fast.