A new season is the perfect time for consumers to refresh their spaces, especially if they plan to host Thanksgiving and want their homes to look appealing. Whether they want to add a fuzzy blanket to their couch, layer up in cozy sweaters, or deck their walls in orange and brown, there are so many charming ways to get ready for the autumn season.
Add these stunning fall pieces to your window displays and watch as shoppers flock to your store: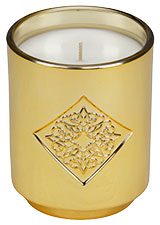 With notes of Rose, Freesia, Jasmine, Violet, Musk, and Patchouli, this candle will add just the right amount of autumn feel to any home. Golden Hour burns for up to 65 hours and is free from parabens, phthalates, sulfates, gluten, and synthetic dyes. The container can also be reused as a decorative piece once the candle has been completely burned.
Opal Road
949-423-6487
www.opalroadhome.com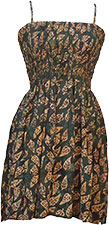 This beautiful dress is made from batik rayon, in which the designs and colors are made by applying wax to the fabric to resist the dye. The wax is then removed, revealing the design. Each piece is made from fast drying, breathable, 100% rayon. One size fits most, and the spaghetti straps are adjustable.
Global Village Imports
800-444-4208
www.globalvillageimports.com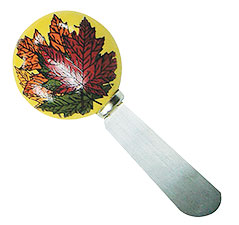 Perfect to give as a gift or to spruce up the table for Thanksgiving dinner, this Autumn Leaf Spreader is sure to fit right in with all other fall decorations. Thirty pieces come in each unit, and there are six units per case purchased.
Dollar Item Direct
866-764-3655
www.dollaritemdirect.com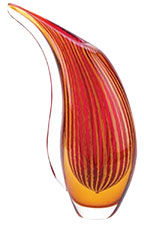 Crimson Sunset Art Glass Vase
This sparkling freeform vase celebrates the beauty of an autumn sunset, setting all surroundings alive with vibrant color. This abstract artwork is lovely alone, but especially stunning when filled with a graceful bouquet. Each piece is individually hand-crafted for its unique beauty, therefore it may have slight differences from the picture.
Eastwind Wholesale Gift Distributors
855-394-4387
www.eastwindgifts.com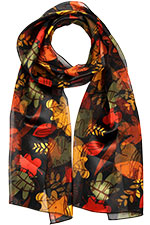 This silky-feel satin scarf is the only fall accessory your customers will need to stand out next season. Featuring a variety of abstract leaf designs, the scarf is available in Black, Brown, and Beige colors. It is made of 100% polyester and measures 13″ X 60″.
Fashion Unic
908-660-0985
www.fashionunic.com