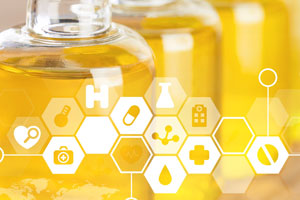 While the CBD industry is booming, it has also become highly saturated — overloaded with brands that are hard to differentiate from one another and who sell relatively similar products claiming that they are "the best." This makes it especially difficult for business owners who are looking to get their newest venture off the ground. How do you stand out?
Get Creative With Your Products
"Bring in products that other companies do not have. CBD brands all sell the same thing, and many topicals are the same, so if you can create a topical or tincture that is different, or use a different cannabinoid, it can prevent you from being just an average CBD company," Craig Henderson, founder and CEO of Extract Labs, said.
Many brands are getting creative with how they develop new products and are using different cannabinoids to make themselves stand out from the competition. For example, Nesa's Hemp prides themselves on using CBDA to make all of their merchandise, and Delta Extrax is constantly testing new cannabinoids. The brand offers products infused with THCP, THC-O, THCV, and HHC, all of which are not widely known, which helps draw attention to their merchandise.
Develop a Business Model to Promote Long-Lasting Success
"Something we have had luck with is discount programs, so try offering a niche group of shoppers such as veterans, fire fighters, teachers, and first responders special discounts. Programs like this work really well, and it helps to create a long-lasting customer," Henderson said.
By targeting certain customer groups, retailers can help increase their brand awareness and ultimately create shoppers for life. Use special holidays such as Veterans Day, World Teachers' Day, which is celebrated on October 5 every year, or National First Responders Day, which is celebrated on October 28 every year. You can of course still offer promotions to all shoppers throughout the year, but this will help to hit those niche groups.
Post Educational Videos on Social Media
"There is plenty of education technology out there, but if you really want to stand out, post videos and do not talk about your products. The second you bring up CBD, your post can get taken down, so find a way to discuss your products in a certain way, such as with an educational video. This way viewers will want to watch the video and see why others are buying your products. Be careful not to make a sales video, and instead, make it more educational," Henderson said.
Use Science-Backed Hemp Extraction Processes
There is still a very limited amount of regulation in the CBD industry. According to Henderson, hemp is known to remediate soil — it acts like a sponge and will absorb everything from the soil, which is why some hemp can be full of pesticides. The Hemp Pantry states that hemp plants are naturally resistant to most pests, so there is no need for pesticides and herbicides. This is why it is so important to get products third party lab tested, from the flower to the finished item.
"There are a lot of companies popping up out of nowhere," Henderson said. "There are many reputable companies, but there are also some just working out of their garage and have no lab. They simply find pictures and represent their brand in a certified way, when it is not true. Always look out for companies like that and make sure what they are claiming is true, so be sure to visit their facility."
Whether you are looking to start your own brand, create your own products, or sell another company's merchandise in your store, these four tips are sure to help small businesses on their journey to standing out in a highly saturated CBD market.