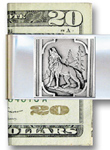 In 1980, Richard Mottsman was 52 years old and out of a job. So he and his wife, Evelyn, started over from scratch, peddling goods locally. They found a market for Western items, and a company was born. The nascent company grew, and the Mottsmans' kids grew into it. "Now my sister Paula and I run the company," says Dan Mottsman, the son of Richard and Evelyn. "My parents are retired and are advisors."
The company they founded, Western Express, has grown into a leading supplier and is still thriving in the same niche. "We wholesale country western accessories," says Dan Mottsman. "We have about 15,000 skus with different permutations of sizes and such. I'd say we have thousands of products, with great variety in each of the categories we sell. The things we specialize in are hats and hat accessories, belt buckles, Western shirts, bolo ties, leather products, and Western jewelry."
But after 30 years, how does a wholesaler keep current? Mottsman says it pays to be responsive. "We are on top of trends, and we're flexible, so we're able to make changes to adapt to changing circumstances, like changes in the economy," he says. "One of our strengths is that we are very receptive to our customers. We are open to suggestions to learn things about the business."
It also pays to do what you do best. "We're in a niche market, and we try to stay in that niche," says Mottsman. "We try to add lot of variety." For example, Western Express, based in Bridgeville, PA, stays on top of the trending products and brings new ones to market in hot categories. "Hats and hat accessories are the biggest items now," says Mottsman. "Belts and belt buckles are very big, too." And so what new products is he excited about? "New leather products, hats, and jewelry."
And Western Express continues to search for the next hot item. "We're always looking for new products, mostly Western merchandise. We try to respond to customer requests," Mottsman says. And those customers run the gamut, from Western and farm stores to Halloween and party stores. "A large percentage of our business is gift stores," Mottsman notes. And the company also sells to special event planners and flea market vendors.
Mottsman is a 100 percent wholesaler, not a retailer. To get the point across, the company requires a $100 minimum purchase, and makes its meaning clear. "Sometimes people don't know what 'strictly wholesale' means," says Mottsman. "They just think wholesale means better price. But we don't want consumers. We don't want them taking business away from our people. So we're strictly wholesale." That includes a wholesale warehouse outside Pittsburgh, PA. "We stock most of the items we sell," he says, describing the 20,000 square foot facility. The company employs 15 people, in addition to six or seven sales reps.
Another Western Express selling point is the large percentage of the company's business that comes from domestic products. "A large percentage of our products are made in the U.S.," says Mottsman. "Half, maybe 50 percent of the dollar value of our goods is made here." The company uses this as a marketing hook. "We list our 'Made In The USA' products on our website," he adds.
Since launching the company website in 1997, Internet sales have kept on coming, while traditional ways of reaching customers, such as trade shows, have not. "It's so much less now from shows," according to Mottsman. "We've really cut down on the shows because most of it is ecommerce now. I can't give you any numbers, because somebody might find us on the Internet but order over the phone. But the trend is greatly toward ecommerce."
That means using the latest technologies, like making sure that buyers on the web can find the company site. "We have good search engine optimization," he says. "That's where the bulk of our new customers are coming from." And that online evolution continues, from an informational website to an ecommerce site to daily changes and updates. "Now we're starting on Facebook and Twitter," he adds.
Although the Internet may be attracting new customers, the way Western Express keeps them is old fashioned great service and high margins. "We ship quickly, normally within days. We have very high customer satisfaction," says Mottsman. The company also offers floor and counter displays for hats, jewelry, and trailer hitch covers, to help its retailers. And those displays can be purchased as package deals already prestocked with product. The company prides itself on offering competitive prices, so that customers can make keystone, at least. In fact, "Some people are able to more than keystone, maybe triple prices," Mottsman notes. "There is a lot of room for margins. In many cases, we sacrifice our margin to give our customers margin."
That discipline served the company well in recent years. Through a down economy, Western Express has emerged in good shape. "We suffered a little in 2008, but generally our business has been pretty upbeat," Mottsman says. "The recession has helped us become more lean. We've learned from it, and it's actually made us a stronger company. We have better inventory control, and we've come out of it healthy."
For more information:
Western Express
300 Villani Dr.
Bridgeville, PA 15017
Toll Free: 800-245-1380
Tel.: 412-257-5020
Website: wexpress.com