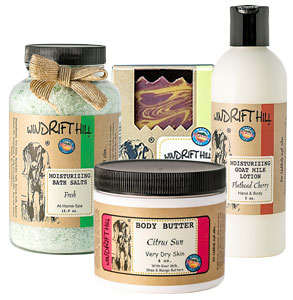 As an occupational therapist, Deena Maier saw many patients struggling with skin problems that medications did not seem to help. Doctors would give out heavy duty prescriptions that were harsh on the skin and filled with chemicals. After doing some research, Deena discovered that goat's milk was considered a great natural therapy and began making goat's milk soap in her kitchen.
Family Business Quality
Beginning in 1999, Windrift Hill started off as a hobby and as a way to formulate products that heal the skin without the chemicals, alcohol, and petroleum. Dick and Deena Maier, along with their daughter and two sons, run this family business in Conrad, Montana. Each of the Maier's Nubian goats is hand milked twice a day to ensure high quality milk for the company's products. The high butterfat content in the goat's milk helps to moisturize the skin better than just about anything else.
All-Natural Goat Milk Soaps, Lotions, & Bath Products
Windrift Hill offers all different types of curated products, including their famous goat milk soaps, body butters, body oils, bath salts, lotions, lip balms, gift sets and accessories. The brand's goat milk lotion is one of their top sellers, and after hearing from customers about how much they loved the lotion but wanted it in a smaller size, in November of 2020, Windrift Hill released their new travel sized goat milk lotion. Offered in seven fun loving scents including Citrus Sun, Goats 'n Oats, Lovely Lavender, Montana Huckleberry, Rain, Relaxing, and Unscented, consumers can now take their favorite lotion with them wherever they go.
The company is also currently working on a new liquid soap, and they are hoping to launch it within the next few months. They have found huge success with their bar soaps, and liquid soap provides more flexibility and is a convenient way to wash your hands, so this is expected to be a great new offering from the brand.
Amazing Body Butter for Damaged Skin
Another top seller for Windrift Hill is their body butters. Especially during COVID-19 with essential workers and consumers everywhere washing and sanitizing their hands constantly, this body butter helps to relieve the dryness and irritation of cleansing the skin all day long. The company even donated these products to different hospitals and nursing homes to help out front line workers in dealing with increased hand washing and damaged skin.
All of these great products can be found on Windrift Hill's website: www.windrifthill.com. Their minimum order is only $200, so don't hesitate and order some products for your store today!
Windrift Hill
PO Box 592
Conrad, MT 59425
Tel.: 406-278-5872