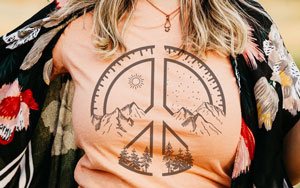 Nothing screams 'summer' like a fashionable t-shirt you can wear for the entire season. From pictures of gorgeous sunrises and flowers to classic summer sayings, Rockledge Designs is a vintage t-shirt company, offering a variety of trendy styles for every unique personality.
Ride the Waves with Beachy Summer Tees
Rockledge adds about 25 to 50 new t-shirt designs each month, and they just added some cool new summer prints that go great in boutiques, vintage shops, apparel and gift stores. The brand offers vintage faded tees with a modern twist to have your customers wanting to purchase more than just one. Shoppers can show off their unique personalities with these fun and trendy designs, and the company even chooses or creates each picture themselves to add that personalized touch.
High Quality Guaranteed
On top of all of the brands' spectacular looks, consumers will be able to wear their shirts for years to come. Rockledge Designs utilizes an eco-friendly, permanent print method called sublimation. They guarantee their designs will never crack, peel, or disintegrate in the washing machine. The water-based sublimation ink directly dyes the fabric, so the design becomes a permanent part of the shirt. No thick, heavy, and itchy paint or stickers on any shirt.
Between the high quality and fun prints, Rockledge Designs is retailers' go-to t-shirt supplier not only for the summer season, but for all year round. Beginning as a hobby in 2018, the company has grown into a thriving business. These shirts were created to eliminate the daily outfit dilemma for busy women everywhere. Consumers can easily find items that are complementary to their amazingly soft t-shirts to dress them up or down, while still being comfortable and stylish. Whatever look you are going for, there is a Rockledge design for you.
Rockledge Designs
www.shoprockledgedesigns.com