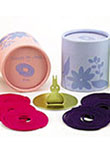 Scents-Of-Asia has introduced an exclusive line of incense coils, available in four of today's most popular fragrances, including sandalwood, rose, lavender and jasmine. Each set of 50 coils and an original bunny coil holder is packaged in a trendy art deco paper can. "The can is designed to be a piece of art, and our floral artwork is copyrighted," says owner Randy Sell. "While other coil incense manufacturers have rather sterile, industrial looking cans, we focused on creating a stylish home décor product." The unit makes an elegant statement, and combines complementary pastel can hues and bold coil colors. The muted shade of the lavender can, for example, coordinates with a deep purple coil. All Scents-Of-Asia incense coils are made with natural essence and synthetic essence of natural ingredients.
Coils offer better value than stick and cone incense
Each coil is around 30 inches long and burns two to three hours, for 100 to 150 hours of enjoyment per can. "Coil incense is a better value than stick or cone incense, but is less common because it requires robust packaging and a special holder," Sell explains. "We include bunny coil holders that burn coils in a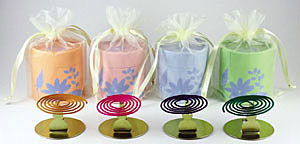 compact space, unlike long, awkward stick holders that must be purchased separately. The fragrance from coils slowly permeates large spaces without overwhelming small spaces, the latter of which is a common problem with fast burning cones." Longer lasting than sticks and more subtle than cones, coils are great for air freshening, ambience, meditation, relaxation and romance.
Scents-Of-Asia designs, sources, markets and distributes coil incense gifts. The company carefully selects suppliers with the highest quality materials and manufacturing processes, to produce the private label product according to its own design, health and safety specifications. "The most efficient and effective supply chain is used to provide the greatest value to our customers. Only suppliers that protect the health and safety of consumers, factory workers and the environment are sourced for our products," Sell points out. MSDS (Material Safety Data Sheets), which offer product health and safety information, are available on the firm's website.
Retailers earn up to 300 percent profit
Scents-Of-Asia's coil incense product was designed from the ground up with gift and price points in mind. "These ready-to-use incense gift cans are high-value products that are ideal for that special but affordable gift," Sell notes. They can be sold individually or as two, three or four fragrance sets, to increase revenue per sale. Retail is $10 per can and up, depending on a seller's market.
Each fragrance is wholesale packaged in cartons containing 64 cans of one fragrance, for an initial investment as low as $230. Wholesale prices are based on the number of cartons purchased, and range from $3.60 per can for one carton to $2.80 per can for 16 cartons. Fragrance samples are priced from $8.95 per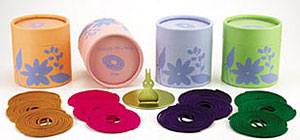 can for one fragrance to $6.95 per can for four fragrances. A special four-fragrance starter package of 16 cans is available to Independent Retailer readers for $80 plus shipping. Cans measure 3 inches by 3 inches and fit nicely into common gift and organza bags.  Ivory colored organza bags with satin ribbon drawstrings can be added for $.22 to $.30 each, to offer additional appeal as event and wedding gifts. Retailers can easily create attractive point of purchase displays simply by placing the cans and coils around the gold bunny coil holder on a shelf or counter.
Scents-Of-Asia is in the process of designing additional gift items for the home décor sections of gift shops and department stores. The company's mission is to provide customers with a competitive advantage by offering new and unique products at reasonable prices.
Where to buy:
Scents-of-Asia
Website: www.scents-of-asia.com