by Brightpearl
A new poll from Brightpearl reveals the top 25 fastest growing online retailers for 2022 across the entire United States. These ecommerce brands generated more than $341 million in revenue over a 12-month period. A quarter of the companies on the list are fashion brands, and half of the top 10 are female-owned or female-led businesses.
This top 25 list comes from Brightpearl's 2022 Lightning 50 list, which shows the top ranking ecommerce companies by revenue growth. Topping the list is Colorado-based HUNT Bike Wheels, growing its sales by more than 1,300 percent in one year. The brand's patented wheel technology inspired a surge of cycling enthusiasts to flock to its online store.
Keys to Success for This Fashion Brand
Researchers tracked growth rates for hundreds of companies across the U.S. to find the fastest growing ecommerce brands of the last year. Among one of the female-led retailers is apparel brand J. Brooks Boutique, who ranked second on the list. The company was founded in 2017 by Jessica Brooks after being gifted a sewing machine a year prior and teaching herself how to sew via YouTube tutorials. With astounding success and 170 percent growth year-over-year, the company also took the crown as the fastest growing fashion brand in the U.S.
"We are ecstatic to have made the list," Brooks said. "Running a lean operation, having a strong pulse on what our customers are looking for, and how to show up for them, have contributed to our success. Using social media platforms and email marketing to connect with our customers help add personality and a personal touch to our brand that operates solely online."
Rounding out the top three was another female-lead independent retailer, Caden Lane, founded by Katy Mimari. The brand came fourth with 141 percent growth, heading up the baby and toddler section.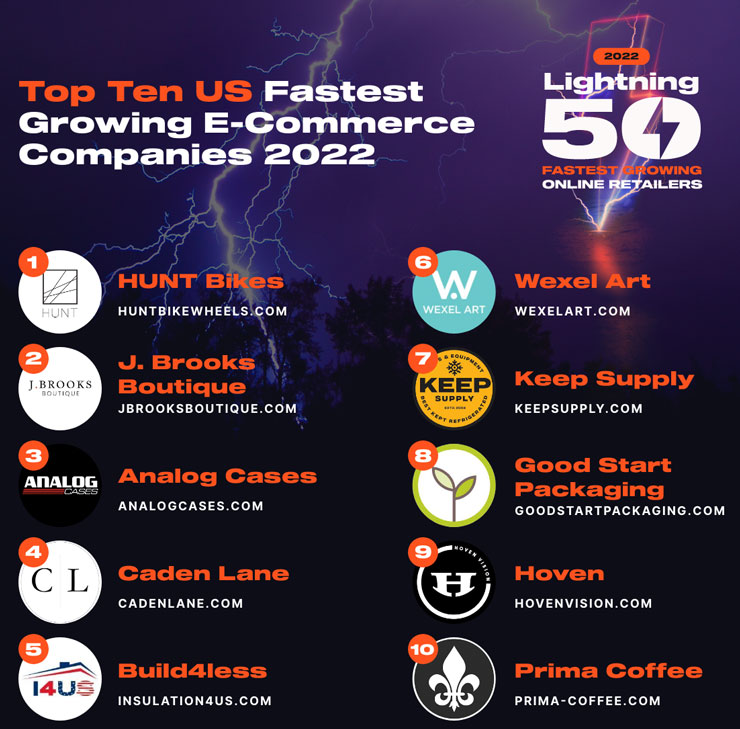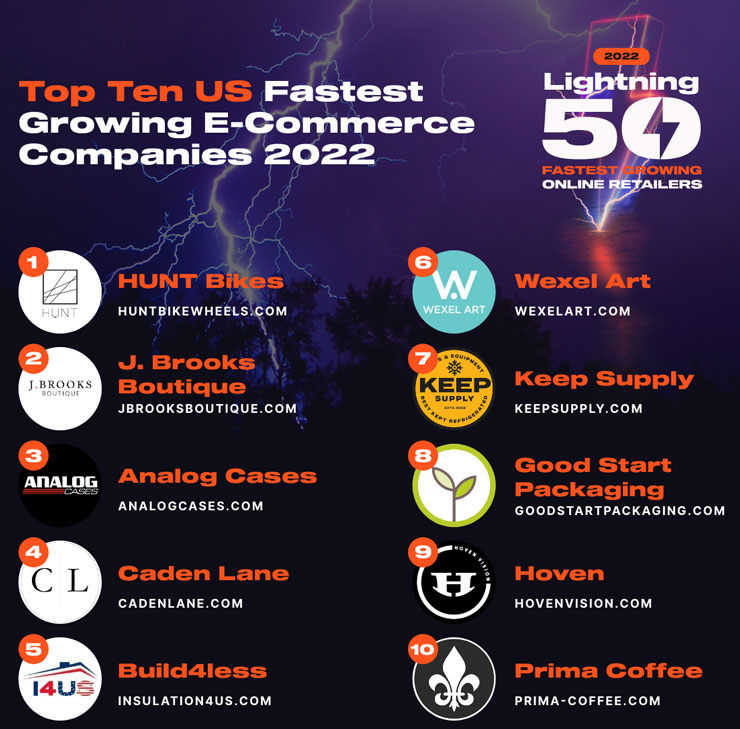 Technology is Needed for Ecommerce Growth
U.S. retail businesses have had to adapt to pandemic-fuelled ecommerce demand alongside the changing nature of online buying and emergence of new selling channels. HUNT Bike Wheels and J. Brooks Boutique attribute their significant growth to successfully leveraging strong ecommerce platforms, inventory planning tools, backend technology to strengthen retail operations, the service they provide, and their relationships with customers.
"We are delighted to be named as the fastest growing online company in the U.S. — it really is a fantastic achievement" Samiel Johnson, US Market Manager at HUNT Bike Wheels, said. "HUNT Bike Wheels evolved out of a passion for bicycles and the idea to create a more inclusive and uplifting space within cycling. We are excited to develop products that change the way people think about cycling, built on a foundation of innovation and outstanding customer service. We cannot wait to build on this growth and continue our mission to serve devoted riders."
"I am absolutely blown away by the success of the top businesses on this list," Christine Russo, retail expert, said. "Everyone is obsessed with the frontend, flashy part of digital retail, but really the key to exponential growth lies in repeat business, and that means putting in place strong end-to-end retail operations to automate and consolidate the backend of your business. That is the foundation for the type of outstanding customer experiences which keep consumers coming back to your store."
Health Beauty & Homeware Brands Thriving
A quarter of the USA's fastest growing online brands are fashion and apparel firms — showing how customers increasingly shop for clothes online. Health and beauty brands, as well as homeware, were also well represented.
One of the four homeware brands that made the list include art framing brand Wexel Art. Speaking on the secret to their success, Morgan Doherty, Co-founder and Creative Director of the business, said "Our customers come back to us again and again because of how efficiently we run our business. We are able to see real time inventory, along with what is on the way, so we can meet their deadlines. Buyers have come to rely on Wexel Art as a reliable business who can meet their demanding deadlines."
"When we consider the uncertainty of the last couple of years, it is easy to paint a bleak picture for businesses. Despite these obstacles, many have risen to this, and now the results are in, we can see that some firms are not just showing resilience — they are absolutely thriving. When we look behind the data, there is a combination of factors for that success, primarily driven by people and the innovative, data-driven technologies they are using that allow them to react quickly to the challenges they face," Derek O'Carroll, CEO of Brightpearl, said.
The full Lightning 50 list can be found here.
---
Related articles: