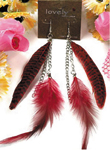 As people continue to increase their awareness of the environment and accept their responsibility to keep it safe and clean, nature themed jewelry and accessories have become a fashionable way to celebrate and promote a pro-planet attitude. Without a doubt, the current trend in the market is nature inspired fashion accessories, which represent nature through color, material or message. This year's 'can't get enough of' Mother Nature merchandise is feather inspired pieces. Whether the items resemble feathers or are made with real feathers, it is a 'must have' that embodies a free-spirited feeling. That is why Opportunity Buys, a general merchandise importer and wholesaler, carries a large collection of feather inspired merchandise to fulfill any and all accessorizing needs. As the company boasts on its website, "We can supply your business with a large variety of general merchandise. In this ever changing and challenging economy, our staff has found ways to keep our customers successful and give them access to the best products on the market," which means carrying the hottest fashion accessories and seasonal trends.
Feather Accessories Part of Seasonal Fashion
From what Athena Flanagan of Opportunity Buys can predict, the company's active involvement in designing new accessory styles will keep feather fashion in the limelight through the first quarter of next year. "Fashion accessories will always be a category with great demand, and Opportunity Buys plans to keep up with evolving trends," she adds. Currently, the wholesaler offers feather earrings, feather clip-ins and hair extensions. Hair accessories are among the hottest items in the line. Flanagan details the different hair accessories, saying, "The extensions have to be put into the hair using a tool and beads, which we sell as well. The clip-ins anyone can do. You just clip it right into the hair." All of the earrings, clip-ins and extensions come in different sizes and colors, but most importantly use real feathers in their design. She also mentions an up and coming flower product line with feather inspired accessories. "We have a brand new product that just came in, Flowers. They come in headbands, 3-in-1 clip-ins, hair ties and pins," Flanagan notes.
Opportunity Buys' extensive line of feather inspired accessories may make it hard for retailers to choose their inventory, but expected profit margins make purchasing an easy decision. Earrings and feather clip-ins wholesale between $9 to $12 a dozen. Peacock clip-ins are a little more at $13.20 a dozen. Hair extensions, which come in a six pack, wholesale for $1.50 for solid colors and $1.75 for striped colors. Profit margins are above keystone, as clip-ins and earrings retail for $3.99 to $9.99 a unit, while salons are charging around $10 to $20 for an extension and styling. Flanagan assures retailers that the company has a solution when trying to pick out inventory, explaining, "We have a 96 piece display of either earrings or clip-ins, which is a great starter kit for retailers. It gives them a great variety to see which sells best for their store, and the display rack comes free with product purchase." Opportunity Buys requires a $100 minimum, which can include any number of wholesale products from the catalog.
For more information:
Opportunity Buys, Inc.
1515 Brookville Crossing Way
Indianapolis, IN 46239
Tel.: 317-353-6684
Toll Free: 800-894-2816
Website: www.obiwholesale.com