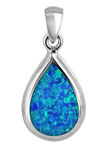 Jewelry in traditional and trending styles offers retailers surefire sales and robust returns for the holiday season. Popular looks in necklaces continue to be classic chains, as well as pieces fashioned in the latest colors, from deep blues to bright reds and warm pinks. Custom and designer-inspired items are also sought-after gifts. From fashion to fine jewelry, suppliers are keeping a close watch on what is trending with world famous brands and at jewelry shows, to bring retailers everything they need to create a sparkling display of profitable pieces.
Traditional, bridal and designer-inspired
International Jewelry Designs Inc. (IJDI) is a premier supplier of high quality cubic zirconia pendants, earrings and rings, known as Aaron Lee Designs by IJDI. Coined "The Look of Real," the line is brass-based and plated with either a heavy genuine rhodium or 18k gold. Since 1983, IJDI has been supplying a variety of retailers with an array of traditional, bridal and designer-inspired jewelry, including volume buyers such as direct mail, accessory retail chains and department stores.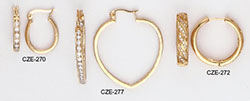 Reliable sellers include the firm's classic hoop and stud earrings, along with some unique concepts. "We have our own styles," notes Larry Goldberg, president. "They have the feel of famous designers' creations, but they are our original pieces. We also have some new pieces coming out this fall that are going to be top sellers." To stay ahead of the fashion curve, IJDI carefully monitors trends in the fine jewelry industry. "We also look at color trends, and we create some bolder CZ pieces with those colors," Goldberg continues. "We gear our line toward what consumers are looking for."
The company is also known for its dedication to quality. "Our jewelry is great for wearing. It is durable and will continue to look gorgeous for many years to come. That is our niche. People walk up to us at the jewelry shows, and they immediately see the difference between our merchandise and our competitors' products," Goldberg points out.
IJDI has a minimum order of $750, and retailers can peruse the online catalog and create a wish list 24/7. The list is transmitted to the sales team and the transaction is concluded by phone. An eCommerce site is currently in the works.
Pink Ice CZ, and gold- and rhodium-finished
Goldfather's Jewelry Inc./GFJ Wholesale is another leader in fine fashion gold layered and rhodium finished jewelry, along with chain by the inch. Doing business for 30 years, the company wholesales a wide variety of fashion jewelry, including bracelets, necklaces, anklets, rings and charms, many with cubic zirconia. "We keep up the quality, and we offer a lifetime guarantee," states Bill McClirk, president. "All the plating is done in the USA. That is important, because we can keep an eye on it to ensure the quality of our merchandise."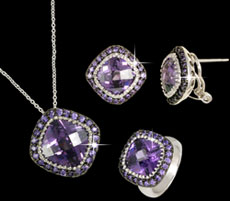 In addition to excellence, GFJ Wholesale keeps close watch on fads. "Many trends are started on television and by what is in the news," McClirk remarks. "I think we will see a resurgence of cubic zirconia in pink ice. A 34-carat pink diamond, known as 'Princie,' recently sold for $39 million at Christie's in New York, and pink is a hot color. We have pink ice in several styles of earrings, pendants and tennis bracelets." Birthstone earrings, all kinds of rings and chains by the inch continue to be strong sellers, he adds. "Retailers custom size the chain for people and put the clasp on in front of them. People like the sizzle, and they like custom made things."
GFJ Wholesale's minimum order is $100, and retail is four to five times wholesale. The firm has 95 percent of its merchandise in stock, and ships orders received by 1 p.m. PST the same day. Starter kits are available. GFJ also stocks a full line of displays, gift boxes and polybags.
Disco dangle earrings in trending colors
Wholesale Silver is a leading supplier of .925 sterling silver jewelry. Located in Charlotte, NC, the company is owned and operated by Mohamed Haroon Sait, a retailer of fine quality jewelry for over 12 years. Wholesale Silver sells all types of sterling silver jewelry, including rings, pendants, anklets, bracelets, toe rings, jewelry sets, body jewelry, brooches and pins. Along with sterling silver, retailers can find a large selection of cubic zirconia, marcasite and gemstones. Pieces are crafted in a variety of patterns such as swirls, florals, animals, Celtic knots, hearts and much more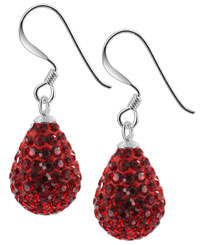 .
Wholesale Silver is continually refreshing its product line, and recently added sterling silver crystal teardrop disco studded earrings, in many of today's trending colors such as bright red, aqua, fuchsia, tanzanite, sapphire, black and clear. These dangle earrings wholesale for $10.99. Also sure to be a hit are the sterling silver opal teardrop with swirls earrings and matching pendant, which wholesale for $22.99 and $24.99, respectively. A sterling silver heart design with single studded heart CZ ring, which wholesales for $12.99, is also expected to sell well for the holidays. Plain silver rings and earrings continue to be quite popular.
"When we select merchandise, we are extremely particular about choosing items that we know will sell, based on design and quality," Sait shares. "We offer very affordable prices, and retail is generally two to two and a half times wholesale." Wholesale Silver offers volume discounts, and prices are listed on the company's website. There is no minimum order.
Marcasite and best selling rhodium-plated collection
Teeda.com is another leading wholesaler that has supplied retailers with the latest in fashionable and classic wholesale sterling silver jewelry for over 30 years. The company offers sterling silver earrings, rings, bracelets, necklaces, chains, pendants and charms to customers in all 50 states, and over 40 countries around the world. In addition to carrying products made in the USA, Teeda.com imports directly from Italy and Asia.
"We are committed to staying on top of jewelry trends, and we gear our selection toward styles that are profitable for our retailer customers to sell," comments Jack Teja, manager. "Going into the holidays, the fancier items such as marcasite brooches and bracelets will sell well. Our extensive array of rhodium-plated sterling silver jewelry is our best-selling line, particularly during the gift-giving season. The rhodium finish on this line is the same as that used on expensive platinum and diamond jewelry, but at a fraction of the cost. As a result, this line has really resonated with consumers, and is a proven, profitable collection for jewelry retailers."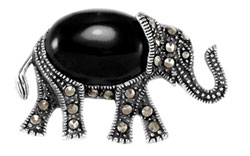 Merchants carrying Teeda's jewelry range from large retail chains, mall shops and kiosks, to online, swap meet and home party sellers. The retail price is typically two to ten times wholesale, depending on the product line and the retailer's operations and target market. Teeda.com accepts orders online, as well as by email, fax and phone. The ecommerce site features industry-leading security and is optimized for buyers to quickly find what they need, and efficiently order various styles, colors and sizes in quantity. The website reflects real-time inventory, and all orders placed prior to 1 p.m. PST are shipped the same day from the company's Los Angeles warehouse. The minimum order is $100. If the amount is under $100 there is a $10 processing surcharge, but customers can still take advantage of Teeda's low wholesale prices.
Whether hip and contemporary or traditionally elegant, jewelry offers retailers reliable fourth quarter sales. Today's suppliers offer an assortment of classic and trending merchandise, including exquisite .925 sterling silver, hot pink cubic zirconia and designer-inspired items, enabling retailers to satisfy consumers of all tastes, across all price points this holiday season.
Where to buy:
International Jewelry Designs Inc.
6502 NW 16th Street
Plantation, FL 33313
Toll Free: 800-395-0527
Website: ijdi.net
Goldfather's Jewelry, Inc./GFJ Wholesale
3870 E. Flamingo Rd., Suite A-2 #354
Las Vegas, NV 89121
Toll Free: 800-642-2545
Tel. and INTL: 702-891-8836
Website: www.goldfathers.com
Wholesale Silver
Toll Free: 855-333-6283
Website: www.wholesalesilver.com
Teeda Company
1107 Fair Oaks Ave., #75
South Pasadena, CA 91030-3311
Toll Free: 877-622-3522
Website: www.teeda.com