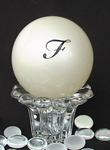 Steve Korniak's Crown Enterprises offers a unique new product called Flame Out, a handheld device consisting of a sqeezeable bulb and spout, for use in blowing out candles. With many candle companies these days switching from traditional waxes to soybean wax, a product like Flame Out can be helpful in terms of safety. For example, a soybean candle, specifically those in jars, can melt into a puddle of very hot liquid. If you have a jar in a bad spot, or need to move it to extinguish it, it can potentially be dangerous. The hot glass burns and the melted wax can make a mess, or even worse, start a fire.
"My wife really loves candles, and always has," says Korniak, as he explains the invention of Flame Out. "She wanted a fireplace, so I built her a candlelit fireplace. We loved it, but sticking your head into a candlelit fireplace is virtually impossible. One night, I went in the kitchen and grabbed a turkey baster to blow it out. It was clumsy and too long, but it worked! I looked at my wife and said, 'You know what, honey? There's a product here!'" After that, Korniak set about coming up with a suitable design. He found just the right type of squeeze bulb, and a spout to aim at the candle flame. Depending on where the candle is, or what type of candle, Flame Out can puff as much air as needed. For example, if you have a candle on the bottom of a big tube of glass, you just puff a little harder.
The startup company is beginning to make connections with gift shops around the nation. There is even a counter display box offered. The wholesale price is $6 each, with a minimum order of one dozen. Suggested retail is $14.99. For orders of 20 dozen or more, contact Crown Enterprises directly for special pricing. Also, the purchase of 5,000 units qualifies for customization, with options in bulb color and logo.
For more information:
Crown Enterprises
243 96th Lane NE
Blaine, MN 55434
Tel.: 763-786-0975
Website: www.flameout.info