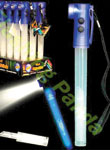 Autumn has arrived, and with it comes the peak of hiking and camping season. Cooler evenings and more temperate daytime hours have adventurers rushing to get involved in as many outdoor activities as they can before winter; and for them, Flashing Panda has a new essential tool. The company's new LED Glow Safety Light Stick takes an old standby product, the glow stick, and combines it with a few other gizmos that come in handy in the wilderness, or in any other place where a multitasking tool can be useful.
Designed to include an LED flasher, LED flashlight and an emergency whistle, the LED Glow Safety Light Stick is presented as one compact device, with the right combination of features that make it an easy seller. Though at first glance the Glow Stick is ideal for campers, retailers can also market the product as an important tool to keep in the car, in the event a customer has to change a tire in the dark or peer into an engine. Of course, the item is consistent with Flashing Panda's other merchandise, in that it makes an appealing party favor or concert take-along.
The LED Glow Safety Light Stick was designed with safety in mind. Equipped with shatter resistant LED bulbs, the lights won't break from impact or shock. Rated for more than 200 hours of burn time, this item wholesales for $2.95 and is successfully sold as an impulse buy around $5.99. Flashing Panda adds dozens of new items to its roster on a regular basis, specializing in light-up barware, raver accessories, party favors, and a recently expanded stock of sunglasses. When it comes to LED merchandise, Flashing Panda is at the forefront of the industry.
For more information:
Flashing Panda
1600 Dell Avenue Unit H
Campbell, CA 95008-6910
Toll Free: 877-357-2632
Website: www.flashingpanda.com