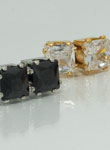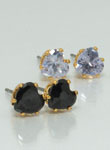 Ziva Gem LLC's cubic zirconia stud earrings are available in an extensive assortment of colors, sizes and shapes, enabling retailers to create their own best selling collection of fashion jewelry. Manufactured in the USA, the firm's fashion earrings are available in round, square, marquis, pear, oval, heart and triangle shapes, in a variety of sizes. Color options include clear "diamond," ruby, jet black, lavender, amethyst, pink, champagne, yellow and orange.
"We take a staple in every woman's wardrobe and make it available in every desired size, shape and color," says Marc Klein, president. Ziva Gem sets its flawless cubic zirconia studs in every metal, including plated base metal, sterling silver and 14-karat gold, and they are price competitive with the China market. "We literally offer more than 1,000 combinations," Klein notes.
Best sellers wholesale for under $1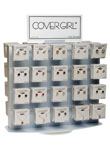 "Our fashion earrings, gold or silver-plated earrings with surgical steel posts, are our best sellers," Klein points out. "Champagne, lavender and pink were very popular colors for summer, and our projection for fall and winter is that jet black, ruby and amethyst will be super sellers. They are already getting a lot of interest for the holidays. Of course, the clear stones are popular all year long." Wholesale prices for a pair of CZ studs range from $.75 to $2.25, and retail is $5.99 to $7.99. In addition to its fashion line, Ziva Gem features the Cover Girl brand, offering retailers tremendous profit margins, with retail prices averaging $9.99. "Our Cover Girl display unit has been exceeding our projected numbers since it came out earlier this year." Both lines are guaranteed sellers, Klein assures, and offer retailers promotional and pricing options.
Ziva Gem seeks representatives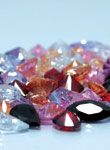 "Once we start working with retailers we keep them as customers, and we are having one of the best runs in our 30 years in business," Klein states. "We have added mass merchandising accounts, which include specialty and department stores, a drug store chain, wholesalers and manufacturers. We also recently entered into the premium and incentive business, and that is booming. They have been using our earrings as gifts with purchases, and as giveaways. In fact, business is expanding so rapidly that I'm looking for representation in all fields, from premium and incentive, to gifts and jewelry."
The key to Ziva Gem's success is quality, delivery, competitive prices and flexibility. "We are in the USA, and we allow retailers to conduct tests on a small basis. Stores that have not carried cubic zirconia can try a small amount of our jewelry. They could never do that with China." The minimum order is $100. Ziva Gem has a dual-purpose display, which holds 48 pairs of earrings and can stand on a counter or hang from an end cap. The company also offers custom programs.
Where to buy:
Ziva Gem LLC
350 5th Avenue, Suite 4210
Empire State Building
New York, NY 10118
Tel.: 646-416-5828
Website: www.zivagem.com