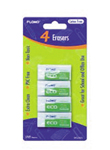 For retailers looking to add to their lineup of special stationery and other items, FlomoUSA.com, the website of the New Jersey based wholesaler, offers an extensive line of paper goods, quality gift bags, accessories, photo frames, ceramics, plush items, bows, ribbons, school supplies and more. "With our own factories in China and our own art department, we're set apart from other companies that claim to have similar goods," says Flomo's marketing specialist. "We're more strict on quality and protocols, and can customize our products so they're unique to us," she adds. The company is especially proud of its lineup of stationery products, carrying more than 700 different items, including pencils, pens, notebooks, paints, markers, and everything in between. "Our eye-catching packaging is vibrant," she says. "It really helps draw attention to the product."
One item the company offers is Eco-Eraser, an environmentally friendly eraser that's safe for use by children. "It's made by a certain process that we created," she says. "There's no pollution made when it's created, and it's both PVC and latex free," she adds. In fact, the Eco-Eraser is so popular that the government of Taiwan has mandated Eco-Eraser as the only eraser that schoolchildren can use. "Kids usually use an eraser and then eventually put their hands in their mouths," she says. "With the Eco-Eraser, that worry is now gone." Wholesale pricing varies depending on quantity ordered, but the product is being sold in dollar stores with a healthy markup.
Flomo also has an extensive line of holiday themed items, and is prepared now for the upcoming St. Patrick's and Easter holidays. "We've also just expanded our wrapping paper line, experimenting with different colors and designs," she says. "It's really nice, eye-catching, trendy and young." Flomo will have a large presence at the upcoming ASD Show in Las Vegas, Feb. 27-March 2, at booths V411 and V511, upper level of the Las Vegas Convention Center.
The company has a minimum $1,500 limit for delivered orders, but for those who pick up orders at Flomo's Teterboro, NJ, warehouse, the minimum is only $500. "We have a 200,000-square-foot warehouse," she says, "so we have enough space to hold ordered cases for customers until they're ready to pick them up." Flomo is proud to be recognized as a certified Woman-Owned and Minority-Owned Business. The company's certifications are on the bottom of the company profile on its home page. "There are not a lot of competitors like us," she says. "No one has the amount of categories we have. Some competitors are just importers or distributors. We are a manufacturer, distributor and importer."
For more information:
Nygala Corp.
698 US Highway 46 West
Teterboro, NJ 07608
Tel.: 201-288-6400
Toll Free: 800-445-5936
Website: www.flomousa.com