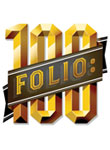 Bill McNulty, publisher of Independent Retailer magazine, has been named in the 2013 Folio: 100 list of media industry innovators and influential professionals. The list represents all facets of publishing from every corner of the industry, including big and small publishers in the consumer, B2B, regional and association markets. Media professionals were named in four categories: C-Level Visionaries, Director-Level Doers, Industry Influencers and Under the Radar. In addition, 15 entrepreneurs were honored in the 15 Under 30 category. Folio: 100 honorees were invited to attend an award ceremony at the Marriott Marquis in New York City on October 30th.
McNulty was listed among the Director-Level Doers, executives and senior managers who are changing the fortunes of their companies. Among his many accomplishments, McNulty:
Increased total revenue by 55 percent in a three-year span.
Introduced a revamped distribution plan that increased circulation by 40 percent.
Boosted cross-channel marketing revenues by 68 percent year-over-year.
Enhanced Web traffic on all brands by 10 percent year-over-year.
Since joining Sumner Communications, which publishes Independent Retailer magazine, the Merchandiser Group magazines, blog.wholesalecentral.com and FleaMarketZone.com, in August of 2010, McNulty has been the driving force behind Independent Retailer's distinctive new design. The full color magazine now delivers all the essential information indie retailers need to strengthen their businesses. The publication is devoted to providing insights and impactful information on new products & suppliers, gifts & souvenirs, apparel, jewelry & accessories, marketing & management, trade shows, closeouts & liquidations, and news.
"It sounds cliché, but this truly is a team award," McNulty asserts. "This is recognition for over a years worth of hard work from a group of people who redesigned the cover, interior pages and an entire website, and steered our editorial content in the right direction. These small retailers had been an underserved market. We unleashed the creativity and passion in the people putting IR together, and the response has been great."
Independent Retailer magazine was launched in 1989 and has a readership of more than 105,000. To subscribe to the publication, please click here.