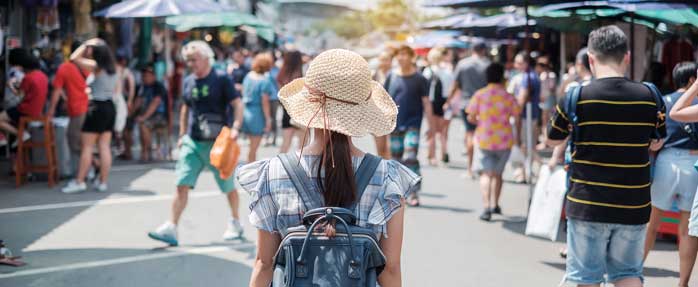 by Brooke Chaplan
Most businesses benefit from the summer rush when it seems like the customers never stop flowing through the doors. Promotions, recent releases, and trends can all leave your store facing a sudden inflow of people wanting to buy your products. Preparation is critical for these times since potential sales are lost if your customers get frustrated by lines that are too long.
Before your next boost in sales volume, here are some tips to prepare your store for the summer rush:
Analyze Your Current Staffing Schedule
During slow times, indie businesses may be able to operate with only a few members of the team working each shift. This can dramatically change during times when there is a high volume of sales. Check the current schedule to see if you need to add a few extra members to each shift.
Remember that you may need an extra cashier, stocker, and customer service rep out on the sales floor. Avoid overworking your employees, as this makes it difficult to retain them. Do what you can to avoid having to find new hires right before the busy seasons.
Increase the Speed at the Point of Sale
When sales are hot, you can bet that your customers want what your business is selling. They don't want to leave the items in their shopping cart behind, but they might if they have to wait so long that they get hungry or tired. Observe your current POS system to see what needs to be changed.
Upgrading to a touch screen cash register for a small business can speed up each POS contact by eliminating the need to use a mouse or keyboard. Keeping the line moving means making even more sales, and it will keep your customers from moving on. Fast moving checkout lines will increase your customer's goodwill towards your business.
Stock Up on in Demand Items
Your plans should also include an analysis of what should be flying off the shelves. For instance, the holiday season tends to see an uptick in items being sold that people can give as gifts or use for home decoration. Alternatively, you may sell convenience store items if an upcoming event near your store is bringing in a crowd. Having what shoppers need means that you'll satisfy more customers. Stock up on items that are in demand to best meet your customer's needs.
Add Impulse Items to Congested Areas
Although you want to speed up the POS, you should also remember that a big crowd means that people may have to linger in the aisles or in line longer than normal. These congested spots are the perfect place to stock a few impulse items that accompany the most common purchases. Giving your customer's tempting smaller items to consider purchasing also helps distract them from the length of the lines.
Prepping before your store is hit with a large crowd is essential for maintaining your company's reputation for always looking out for its customers. Make sure that you have everything in place to greet customers, help them find what they want, and complete the sale. Doing so may just mean that your business hits your goal for the year early and surpasses what you did last year.
Brooke Chaplan is a freelance writer and blogger. She lives and works out of her home in Los Lunas, New Mexico. She loves the outdoors and spends most of her time hiking, biking, and gardening. For more information, contact Brooke via Facebook at facebook.com/brooke.chaplan or Twitter @BrookeChaplan