Did you see the JLO Emblazoned Rhinestone Tumbler on the Hard Rock Super Bowl commercial? If so you may know why that looked so familiar. Foxyware just debuted this item at the Las Vegas Gift & Souvenir Show and in Independent Retailer only 5 months ago!
"We were overwhelmed by the amount of calls we received that Monday," Tami Cimperman, owner of Foxyware, said. "We could not have asked for a better promotion for Foxyware. It is nice having customers get so excited about our product line!"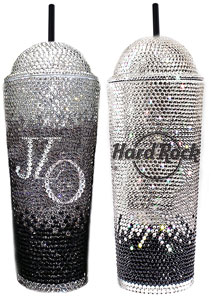 Foxyware can produce your own custom rhinestone emblazoned tumblers (just like the JLO tumbler) with your company logo. They are the only company that produces rhinestone emblazoned tumblers on a wholesale basis. JLO's ad agency asked Foxyware to produce these in quantity at a price in which the masses could afford for her concerts and her website.
Foxyware offers various styles with a wide selection of options. The 20 ounce tumblers with a custom logo retail for only $39.95 with glitter and acrylic stones. The company also offers a dome lid 24 ounce tumbler that retails for $49.95. For those high-end shoppers that want a Swarovski look with top quality glass stones without paying the Swarovski price, Fozyware offers a stainless steel option that retails for $95.
Foxyware tumblers have an extremely high perceived value. Customers immediately gravitate to this item and are stunned by the $39.95 starting price point. The minimum order is 200 pieces.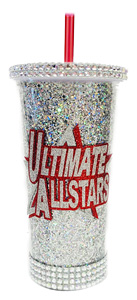 For those that want that rhinestone look with lower minimums, Foxyware offers a 20 ounce #GRTUMBLER. This tumbler comes with the lid and bottom band completely covered in rhinestones and super sparkly glitter colors lining the acrylic double wall. Available colors include Silver, Gold, and Pink. Other colors are available via special order. The minimum order is 24 pieces with your company logo starting at only $12 – $15.
"Custom bling can add a lot to your bottom line. This is a great profit center as long as your store is doing it correctly," Tami said. Retailers are very successful when they merchandise these products together with ample amounts of lighting to allow these items to shimmer. Foxyware also offers various inexpensive display and lighting solutions for customers.
To see their full line, visit Foxyware's website at foxyware.com. You can also call or email Tami directly at 877-241-6134. Foxyware's rhinestone mugs are a home run!