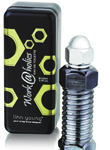 With Christmas just weeks away and retailers stocking up for the season, wholesalers of popular fragrances are bracing for an onslaught of orders. One such company, Veneto Fragrance of Miami, FL, is making a multipronged push into the market, trading on the popularity of today's superstars, touting its own homemade brand, and eyeing the growing men's fragrance arena.
"We're getting requests for more of the 'Victoria Sexy' scent, our version of the Victoria's Secret fragrance," says Sharice Mosley, sales manager for Veneto. "There's also a lot of interest in Sean John's 'Unforgivable'," she adds. "Our customers are very interested in a high-end product." And it's no wonder why. The famous scents wholesale for $10 each for a 3.3 ounce bottle, and retail for between $50 and $60 each.
That pop culture popularity also carries over to Veneto's version of fragrances from Usher, Paris Hilton and Donna Karan. For example, their version of Hilton's signature fragrance is called "Love Lies," marketed under Veneto's "All Star" brand in 3.3 ounce bottles. Veneto also has its own version of Donna Karan's "Be Delicious" scent called, "Luscious," which they're currently bringing to market. It wholesales for $10 and retails for between $60 and $70.
Sensing a new trend in the marketplace, Veneto is also stocking up on men's fragrances. "Traditionally, fragrances have always belonged to women," Mosley says. "Now we find that a lot of women are requesting men's fragrances for their men. It's not the men buying it; it's the women." As such, Veneto has expanded its line of scents for males, with much success. The company is also rolling out a unique line of scents under its own label, Veneto Fragrance. "The line includes 12 scents for men, and 12 for women, all in 15 milliliter bottles," Mosley says. "They're all made and designed right here by the company; the fragrance, the design, the box, everything." The line wholesales for $24 a case, or a dollar a bottle, and Mosley says retailers are selling them for two for $5, or three for $10, depending on the particular item. "It's got a nice markup," she says. "It's going to be our best seller."
Veneto has all products on display in its Miami showroom, where nearby customers can see the latest wares when they stop in to pick up their orders. And, Mosley reports, business is increasing as the holiday season gets closer. "Business has been good, and we've been keeping our head above water," she says. Veneto does most of its business via its website, www.ud2006.com, but also sends its catalog to an average of 30 customers per week.
Another company that's seeing a surge in orders for its scented products is Kheops International, with facilities in both Colebrook, NH, and Quebec, Canada. Founded in 1991, the company serves thousands of customers across the U.S. and Canada, and is now expanding into nine countries overseas, including Japan, Germany and Australia. Currently targeting the metaphysical marketplace, Kheops is enjoying increased interest from that market for its line of incense and fragrance oils. "We recently introduced Akasha Incense," says Micheline Freyssonnet, marketing manager for Kheops. "It's made in India and is a premium quality Massala incense, made of the finest herbs, resins, spices, woods and pure oils that are crushed and blended into a paste, that is then rolled by hand on a bamboo stick. It's very natural and high quality." The product was so popular earlier this year that it was back ordered for a time, but is now in, fully stocked, and comes in ten different fragrances. It wholesales for $9.95 for 15 sticks, and retailers are reporting a healthy markup on this most wanted item. Kheops also carries the Nag Champa line of Indian incense, "The best known incense in the world," and currently its best seller, Freyssonnet says. Available in various sizes, packages and scents, pricing is available on request. "We also distribute Morning Star, a line of Japanese incense over 400 years old," Freyssonnet adds. The Morning Star products wholesale for $3.95 for a box of 200 sticks, and $17.40 for a dozen boxes of 50 sticks. Retail prices vary.
Kheops is also seeing strong interest in its fragrance oils and perfume oils. The fragrance oil is used in diffusers only, but the perfume oil can be diffused or applied directly to the body. Naturally, the company also carries a wide line of diffusers in ceramic and soapstone. "They both sell pretty well," Freyssonnet says. Kheops reaches its customers primarily through its website and catalog, distributing 5,000 of the latter every year. The company also produces a ten page supplement every fall, and according to its website, has been supplying 4,500 retail stores since 1994. Their minimum order is only $125, and that allows customers to select from more than 3,000 items. Business is brisk for them as the holiday looms, but they also had a successful summer season, wholesaling many items to retailers who set up shop at North America's numerous Renaissance Fairs. With a tagline of, "Kheops International, for meaningful gifts to help you move forward," the company is well targeted to reach a niche marketplace with an expanding line.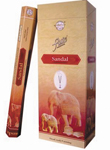 For those seeking something different in scented products, Matt's Incense in Bunnell, FL, has a complete line of, "catalytic fuel oils." If you're unfamiliar with the term, company owner Linda Simon offers a quick tutorial. "The oil is for use in our catalytic aroma lamps. They're decorative glass containers that hold the oil, with a wick that goes inside, attached to a stone," she explains. "The stone is lit and is allowed to burn for a few minutes. You blow out the flame, and the scent is then diffused for hours, flamelessly." Simon says the products are selling well, at a price point within reach of most consumers. "These lamps were $300 when they first came out a few years ago," she says. "Now we wholesale them for $15, $20 or $25, depending on the model," she says. "Retailers are selling them for $60 to $75." Matt's Incense also sells a full line of the oils used in the lamps. Available in 12 ounce bottles, they have eight different scents including China Rain, Cinnamon Stick, Gardenia Blossom, Blooming Jasmine and more. The minimum required order is only $50, and discounts are offered for quantity purchases. The company also carries a wide assortment of incense sticks and both body and fragrance oils.
The 11″ oil dipped incense sticks are available in eight different colors and more than 150 different fragrances, sold in bundles of approximately 100 sticks per bundle. "Most customers order them by 50 to 100 bundles at a time," Simon says. "And, of course, we offer a discount for quantity orders." Not surprisingly, Simon says some of her best selling scents are the classic favorites Patchouli and Sandalwood, along with the more recent China Rain and Nag Champa. Matt's fragrance oils come in a concentrated half ounce clear bottle, with an attractive silver label and the fragrance listed on top; they wholesale for $1.25 each. Their body oils come in a quarter ounce size of dab on amber bottles, and wholesale for $1.75 each. Simon says she's noticed a significant shift to the Web by her customers. "Where we used to send out 20 to 30 catalogs a week, we're now shipping about 20 a month," she says.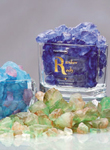 For those looking to add some flameless fragrances to their lineup, retailers might consider getting in touch with Joel Patterson, CEO of Planet Naturals. His company manufactures, "Rainbow Rocks Crystal Potpourri," a line of scented and colored absorbent sea salt that can fragrance a large area without flames or smoke. Patterson originally began working at his father's store at the Dollywood theme park in Tennessee, but then eventually started marketing the rocks on his own. Patterson's wife tried a flea market, and even after making only ten sales the first day, people who returned raved about the line. "The product is made from a specific sea salt that's very absorbent," Patterson says. "It holds the scent better than potpourri. And the color process sets us apart, as we have a process for the coloring that's permanent. We also add more fragrance to the rocks, to help make it long lasting."
Exactly how they do what they do is a corporate secret, but an explainer on the Planet Natural web page hints at the process: "Although still a relatively new category in the home fragrance market, crystal potpourri has quickly become an ideal substitute for scented candles, diffusers and botanical potpourri. Our scented crystals provide an even better, longer lasting fragrance, from 30 to 60 days longer, than our competitors and other manufacturers in the industry. This is possible by our proprietary aging process, distinguished coloring methods and our commitment to using only the finest quality, all natural raw materials available. The same high grade oil used in our manufacturing process is also bottled for refreshing the Rainbow Rocks."
Planet Naturals has some 30 different fragrances available, those that it calls its "true performers." These include the bestsellers: Earth, Wind and Fire. The first is a patchouli mixture with earthy undertones, and is quickly becoming the company's number one seller. There is also strong interest in Wind, which Patterson says has a kind of floral scent that's very popular, and the fall fragrance Harvest, which features a country store and cinnamon mixed scent. Planet Naturals is rapidly expanding its base market, selling to distributors online, thousands of independent gift shops, and even some big names like Waterford Crystal, Neiman Marcus and Barneys. They offer a minimum order startup package for between $200 and $300, but that translates into a retail profit of four times that, or about $1,200. New customers can also order just three different fragrances for about $150. Orders are shipped in one, two or five gallon "paint can" containers, with a handle and lid. While the company does 90 percent of business in its signature product, it also offers a line of room sprays, bath salts and warming lamps, one of which is a new type of burner it will debut next year. The complete product line can be seen at PlanetNaturals.com.
For those seeking a more "green" product line, Incense Plaza might have what you're looking for. Started by Vinod Dafani back in 2003, he saw an opening in the marketplace for natural incense because, as he puts it, "the market hadn't evolved yet." Dafani noticed that most incenses for sale, "Were the basic rolled scents; we saw the need for getting more combinations of incenses to market." Incense Plaza started off with some 30 different combinations in its product line. "Business was pretty slow at first," Dafani admits, "but now it's taking off, especially with the green evolution." Incense Plaza's pricing is also an inducement for retailers. "Our current best seller is sandalwood," Dafani says. "It wholesales for $1.50 for a bundle of 120 sticks, and from $6 to $16 for 180 sticks of a higher-end brand. But retailers can realize a minimum 130 percent markup, and up to a 200 percent markup."
Incense Plaza wholesales to a number of outlets, including flea market vendors, convenience stores, gas stations and gift shops. The company sells mostly via its website, incenseplaza.com, "but we sell by catalog, too," Dafani says. "We send out about 400 a year." In addition to the incense sticks, they carry a full line of ash catchers, the most popular being the "Coffin Box," which wholesales for $3 but retails for $9.99 and up. The company is also staying ahead of the market by constantly bringing out new products, and Dafani has two that are currently drawing a lot of interest. "We're offering 'parampara', which is a natural incense with top notes of sandalwood; it's picking up in sales," he says. "And our 'Woods' scent is made with all natural oils and resins; it's doing really well."
For those interested in trying the line without too big a commitment, Incense Plaza offers a unique starter pack. "It features 30 packets of incense sticks with 120 sticks each; 20 flat ash catchers; and six Coffin Box ash catchers, all for only $100," Dafani says. Incense Plaza's minimum order size was $75, but has been reduced to $50 until December. "We're also offering free shipping on orders of $150 and more," he says. So, why should someone consider adding the Incense Plaza line? "It's an impulse buying product," Dafani says. "It's a good way to increase sales."
Those looking for a more "down home" and traditional line would do well to visit the folks at Southern Candle. Founded by Randy Whittington and partner Gary Jordan in 1998, the company was started after customers of their overstock business began inquiring about quality candles, but couldn't find any they liked. Whittington then decided to start producing a quality product on his own, and the company took off. "We're a high-end candle company," Whittington says. "We sell to mom and pop retail outlets as well as gift stores. We also have our own printing operation, so we can do private labels," he says. "We sell to a lot of companies who then resell the candles under their own labels." Southern Candle carries a wide and varied line, and they're always coming up with new concepts. "We offer more than 100 scented candles, each available in several different sized containers," Whittington says. "We also sell 'tart packs' and the melters that go with them. The tarts come in six pack breakaway cartons." Tarts are wickless and the wax is placed in melters, which will melt the wax and give off a fragrance without the need of a flame. "Many people use tarts when they do not want to have a burning candle in their home," Whittington says. "They're available on our website; It's a new offering to our customers."
The company's minimum order price used to be $200, "but now it's only a $100 minimum; we're trying to give our retailers a break in these tough times," Whittington says. "They can mix and match anything from our product line." An eight ounce jelly jar is Southern's most popular size, burning for 40 to 50 hours. It wholesales for $3.75, and retails for $7.95 or $9.95. "Retailers can easily get double the wholesale price," Whittington says. One product Whittington is particularly proud of is its trademarked "Clean Air" line, a soy based product for those seeking a more "green" candle. "Soy is all natural, from soybeans, and there is no black soot with this candle," Whittington says. "It has a natural wick made of cotton, and there is no black 'burn' ring inside the candle; it's clean burning, with a strong 'fragrance throw'," he notes.
Staying true to its roots, Southern Candle's products are all handmade, "There's no machinery involved," Whittington says proudly. "We try to stay with a down home type fragrance," he adds. "We offer sugar cookie, oatmeal raisin cookie, and cinnamon raisin bun scents; also magnolia, lilac, and others. We try to associate the name of the candle with what it smells like. So our cotton candy or birthday cake scents smell just like their name." The company's growing popularity is a testament to its success. Southern Candle is now exporting to Germany, Austria and Switzerland, and is in talks with a major retailer in the U.K.
For retailers tired of competing with big box stores but who still want a high quality line, it's worth taking a look at the products from L&V Creations, found on their site at www.scented.com. Company founder Luis Santoni had had a successful career in the satellite TV business, then retired, but started getting restless. "I wanted to design aroma lamps for people selling the oils and incense burners in pushcarts in the mall," he says. So Santoni went to Mexico to develop new lamps. "Our products became really popular; they were different and their high quality was the appeal," he says. Realizing he didn't know it all, Santoni sought advice. "I went to the large companies, to let them know of my background," he says. "I wanted to be the best supplier with the best products, oils, fragrances in the market, at the lowest price." It was worth the effort. "They taught me; I learned to do it better than everyone else," he says proudly. "Ours is a family business, and we're all 'straight shooters'. We respect our customers."
That respect is evident in the loyal customers L&V serves. "We have 1,200 to 1,500 customers worldwide," Santoni says. "That didn't happen by accident." L&V carries one of the largest selections of aroma lamps for aromatherapy and fragrance oils available in the market. "All of our products are UL approved; we use high end quality parts, contrary to what our competitors are doing," he says. They also have a wide variety of the most popular fragrance oils, with more than 160 fragrances to choose from, as well as pure undiluted certified essential oils. "Our new super premium incense sticks are soaked for 24 hours in our most popular fragrances," Santoni says. "We're making a name for ourselves with this quality."
A quick look at L&V's website backs up this assertion. The company carries aroma lamps, incense burners, a wide selection of oils and more, all at discounted prices. Their tabletop night lights, for example, wholesale for $3.95 to $7.95, but can retail for between $17 and $20 each. Other plug-ins are similarly priced. Their full lineup can be seen at scented.com. But for Luis Santoni, it's about more than just dollars and 'scents.' "We have a passion in that we like what we do," Santoni says about his family business. "We care about the little guy. Big companies have offered to carry our line, but if I went with them, I'd have to ignore the small retailer, so I've turned them all down," he says.
And Santoni has some advice for retailers struggling in this weak economy. "This is the biggest mistake we see: storeowners don't know how to make themselves attractive to their customers," he says. "Retail stores should be divided into three segments: 40 percent with low-end products, 40 percent of midrange quality products, and 20 percent of high-end products. They have to learn to carry a mixed line," he states. "Products are retail impulse items; if your store looks low-end, your store looks cheap. That's the biggest mistake they make. And yet," Santoni adds, "people who take my advice and succeed make me proud."
For more information:
Veneto Wholesale, Inc.
549 N.W. 28th Street
Miami, FL 33127
Tel.: 305-572-0150
Toll Free: 800-226-3013
Website: www.ud2006.com
Kheops International
P.O. Box 177
Colebrook, NH 03576
Tel.: 603-237-8188
Website: www.kheopsinternational.com
Matt's Incense
35 Enterprise Drive
Bunnell, FL 32110
Tel.: 386-446-3118
Planet Naturals
307 East Kinbrough Street
Mesquite, TX 75149
Tel.: 800-675-0074
Website: www.planetnaturals.com
Incense Plaza
9777 Harwin Drive, Suite 108
Houston, TX 77036
Tel.: 832-723-4470
Website: www.wholesalecentral.com/incensenmore
Southern Candle
915 Cherry Street
North Wilkesboro, NC 28659
Tel.: 336-838-8844
Website: www.southerncandle.com
L&V Creations
5415 NW 161st Street
Miami Gardens, FL 33014
Tel.: 305-430-9700
Website: www.scented.com