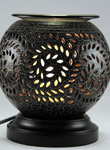 Wholesalers and retailers agree that fragrances and scented products transcend age and gender, meeting the needs of a diverse clientele. However, even though products like body oils, perfumes, incense sticks, burning oils and more have broad appeal and fast turnover, suppliers still strive to ensure a competitive advantage by providing top of the line customer service and unlimited choices. For example, Heavenly Body Products carries not only a full line of lotions and body oils, but also air fresheners and its expanding line of burning oils. With 50 plus fragrances, Heavenly Body Products offers classic favorites like Apple and Lavender, plus unique combinations and scents like Vanilla Pineapple, Cantalope and Starburst.
Unlimited Fragrance and Scented Product Choices
Simply stated, Heavenly Body Products has what buyers need, especially for those retailers who might be looking to get in on the wholesale side. Company owner and founder, Sir Markadoo, is seeking what he calls Master Distributors. "I'm looking for people who want to buy 25 gallon drums of product and take over territories," he says. For smaller distributors, the company offers gallon bottles, which can be broken up into pounds or whatever size works for their distribution plan. But that isn't the only choice Markadoo offers his customers, as both drums and gallons are offered as standard or premium quality, premium meaning industrial strength and not yet cut with a solvent. For those distributors looking to cut their own product, one gallon of premium burning oil can be purchased at $128 wholesale. Those who would like the solvent added before purchase can buy a discounted gallon bottle for $88 wholesale. "Whatever choice they make, distributors can expect to make at least a 300 percent profit margin," notes Markadoo.
And while choice alone gives Heavenly Body an upper hand in the fragrance and scented products category, Sir Markadoo believes his products will be a success because of the customer service and marketing his company offers. "We have a display and other sales tools like window decals and signage to let the public know that the distributor carries our product," he says. "But most importantly, we also offer private labeling for the burning oils. This is a huge hit with those distributors trying to establish themselves in the market." With a minimum order of $100, anyone can be a distributor of Heavenly Body Products' hot selling burning oils.
In addition to a broad line of high-end rendition designer fragrances, Veneto Wholesale, Inc. has continued its mission to provide good designer perfumes at great discount prices. "We carry more than 15 lines, each with over 200 fragrances for both men and women," says Sharice Mosley, sales manager. "Wholesale prices range from $1 to $10, and retailers can resell for $10 to $50 retail." The company lists some of its best selling items as RT King Sky (version of Amen), RT Sporty & Pink (version of Escada), Omerta Wealth (version of Lancome Tresor), and Lynn Young Touzzo and Home Run (Chanel men and women).
For those retailers who like to have choice but can't choose, Veneto Wholesale's 24-piece collection is a great seller and a big profit generator. "We sell to all types of customers," Mosley says. "For example, we have local customers who just want to try our special mixed case of 24 bottles, all the way to vendors that have big booths of our product." Working with manufacturers in France, India and China, there is something for everyone, and with top of the line customer service, what more could retailers ask for.
On top of offering great wholesale prices to both new and existing customers, Veneto Wholesale has also made volume discounts available to those retailers looking to purchase 200 cases or more. "I've noticed that buyers and sellers in the industry are looking for less expensive, good quality fragrances, and are purchasing more renditions now than ever before," notes Mosely, "which is why we want to give them the selection and service they deserve." Mosely adds that Veneto will be introducing a new two-in-one fragrance bottle for both men and women. "One fragrance is to be worn in the day and the other at night. How's that for selection?" she adds.
H&Z Distributors, sole distributor of Alta Moda perfumes, is unlimited in its choice of high quality, designer inspired perfume options. Promoting at least nine best selling women's perfumes and eight fragrances for men, as well as three-piece gift sets, H&Z is taking the independent retail market by storm. Inspired by a family business in manufacturing near the Italian and Swiss border, H&Z has its roots in private label manufacturing of designer fragrance brands. Today, repackaging the business in the U.S. as a distributorship, Alta Moda offers the same quality fragrances found in department stores, without the expense that comes with a celebrity endorsement.
Wholesaling between $5 and $6, retailers still make a descent profit margin at a retail price of $29.99. "People may not recognize the name, but will be shocked by the price once they smell the product," says president of H&Z, Ibrahim Hassan. "Just Gold for men smells similar to well-known fragrance, Paco Rabanne's One Million." There are also fragrances like Conquer (smells like Drakkar), Victory (smells like Cool Water), Sweetheart (smells like Amore) and Dreams (smells like Nina by Nina). According to Hassan, "People today are conscious of smelling good, and they don't want a diluted product. We use a combination of ingredients to get the quality we are looking for."
Originally selling to gas stations, H&Z continues to grow its business, working with a broad range of independent retailers and a few wholesale distributors. The company may have a vast selection of designer inspired perfumes, but with no minimum order requirement for retailers, a growing gift set line, and plans for a checkout counter display, H&Z is becoming a great choice for good value fragrance products in the market. "Alta Moda means 'high fashion,' and that is just what we are, but without the cost," notes Hassan.
A veteran in the industry, Matt's Incense has over 20 years experience, and knows retail customers are always looking to add their own signature scents to homes, cars and offices. Preparing a number of different options and products to respond to the continuous demand for scented products, the company offers an extensive selection of about 25 different product lines and about 400 different products overall. Choice is what matters when serving customers large and small, from kiosks to mom and pops to flea market vendors. But according to Linda Simon, founder and CEO of Matt's Incense, incense sticks and fragrance oils continue to be the company's best sellers. "Take the fragrance oils for instance," says Simon, "the reason these sell so well is because they are a versatile product, and can be used in oil warmers, candle making, and even in auto air fresheners."
Just between the two top selling products, retailers can expect to pay on average $2 wholesale, with an extraordinary markup of five to six times the wholesale cost. "A minimum order of $50 has been set in place to accommodate the little guy," notes Simon. "Customers can feel free to mix and match whatever they would like in this minimum order, as we also offer oil based incense cones, scented rocks, oil diffusers and more." The company also offers some volume discounts on incense sticks and oils, but Simon explains these are for rather large orders, most likely not in the realm of independent retailers' needs.
And while Matt's Incense is a strong believer in versatile and expansive options, customer service is what has given the company its experiential wisdom. "I started out in retail, and got such poor quality service from some of my suppliers that I decided to become the wholesaler I'd like to do business with," says Simon. Therefore, other benefits retailers can expect when working with Matt's Incense is peace of mind that all products are U.S. manufactured, and constructed with domestic ingredients. The company also maintains a green operation, and somehow finds time to offer closeout pricing, starter kits to kick off product promotions, and launch new products. "In fact, we should be launching a new product in the next six months," notes Simon. "Customers should continue to check the website for updates."
A well recognized importer and wholesaler on the East Coast, VD Importers has made a name for itself through extensive fragrance and scented product lines imported directly from India. Among the more than 200 items available at VDimporters.com are its newest product lines, Divine Bulk Incense and Divine Perfume Oils. Offered at rock bottom wholesale prices, these products are a great addition to the candles, aroma oils and more that the company offers for less than $2 wholesale. "Many of our items are even under $1," notes Vineet Gupta, owner. "We sell to all sorts of outlets, from dollar stores to kiosks to gift stores, across both the U.S. and Canada."
There are almost 300 incense fragrances, 20 body oils and more than 80 aroma oils to choose from, helping retailers target their niche market. Gupta, looking to meet retailers' needs, also allows for mixed product orders as long as the $100 minimum is met. The loose 11 inch incense sticks are priced at $1.50 wholesale for a bundle of 100, and typically retail for $1 for 10 sticks, providing $10 profit for each bundle of 100. The perfume oils are available for $1.75 wholesale per piece, and can retail between $5 and $7.
A starter kit is available for the perfume oils, and includes 24 bottles of the 12 best selling fragrances at a price of $42. Some of the included fragrances are Lavender Dreams, Patchouli Forest, Victorian Rose, Jasmine Blossom and more. POP displays are available for both the perfume oils and incense. A counter display can be purchased for the perfume oils, while a free cardboard display is offered to those customers purchasing 100 bundles of incense sticks. For those retailers who call in response to this story, VD Importers will offer a five percent discount on your purchase. "We also offer special deals and promotions on our site every couple of months," Gupta says. No registration is required at VD Importers. Just logon and begin ordering.
For more information:
Heavenly Body Products
2571 Park Central Blvd.
Decatur, GA 30035
Tel.: 404-286-6700
Website: www.heavenlybodyproducts.com
Veneto Wholesale
549 NW 28 Street
Miami, FL 33127
Tel.: 305-572-0150
Toll Free: 877-335-0005
Website: www.ud2006.com
H&Z Distributors
11980 Reedy Creek Dr. #104
Orlando, FL 32836
Tel.: 321-947-4815
Website: www.hzdistributors.com
Sylin Corp. D/B/A Matt's Incense
35 Enterprise Drive
Bunnell, FL 32110
Tel.: 386-446-3118
Toll Free: 800-742-9133
Website: www.mattsincense.com
VD Importers Inc.
4960 NW 165th Street, Unit B-20
Miami, FL 33014
Tel.: 305-620-2006
Website: www.vdimporters.com