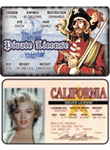 Phoenix-based Galan Enterprises has seen much success lately with a line of gag ID cards and driver's licenses. Made to look like the real thing, they also have a funny twist that make them fun purchases, which are hard for customers to resist. Although there are a few other companies selling these items, owner Bob Galan points out that no one is specializing in them as much, or doing so well, as his company.
"We have popular ones for aliens, and one for Obama," he says. "Actually, we have a couple for Obama: One that's a presidential license instead of a driver's license, and a Hawaiian driver's-license version. We do a lot of the presidents, but the Obama right now is a strong seller. The other ones that are good sellers would be the 'backseat driver's license', and cards with pop culture figures like Elvis, Marilyn, James Dean and Betty Boop. These are all very strong sellers."
They're all made to look like a real driver's license or ID cards. In fact, sometimes they might even be too convincing. For example, the faux FBI badge was being carried by one of Galan's customers at a gift shop in an airport, and the store owner was asked to stop selling them. Although they couldn't be forced to stop, the request was made because the cards were too realistic. "It takes up no space, and there's almost no freight involved, because it's a lightweight item," says Galan. "The feel is quality, the look is quality, and nothing is done haphazardly. It's easy enough to carry home from a vacation, which is why it does so well as a souvenir item."
Galan's cards cost a dollar at wholesale, and can be sold retail with a three to five time markup. There are even display racks available, making them very easy to merchandise. Buy a full rack of cards and the rack is free. With a lesser amount, the rack can be purchased at a discount. Depending on the size of the rack, they hold anywhere from 20 to 100 dozen. Minimum order is $100, with an initial order requirement of $150. For the cards in particular, customers may buy as few as six pieces at a time.
For more information:
Galan Enterprises
2740 West Windrose Drive
Phoenix, AZ 85029
Tel.: 602-993-3000
Website: www.galan.org