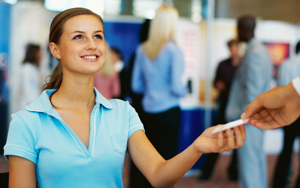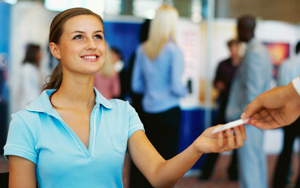 Every year, tens of thousands of retailers take time away from their stores and online businesses and invest hard-earned money to attend trade shows. As consumer product discovery continues to shift online, retailers are finding products online, too. But, trade shows are still an essential aspect of the retail industry.
There are countless benefits to attending trade shows, including first access to new or exclusive products, testing quality firsthand and meeting suppliers face-to-face, building networks, securing trade show-only discounts, and attending educational talks and seminars.
Trade shows can leave you with a fresh perspective, positive outlook, and most importantly, new tools and products to grow your business. But, there's no denying the time and financial commitment they require. Follow these tips to get the best return on your trade show investment:
Choose the Right Shows
The first and most important step in getting a good return on your trade show investment is choosing the right shows. It's tempting to attend the largest shows, or the same shows you've been attending for years. But, think about what products and what experiences you're looking to get out of attending a show and make sure the ones you choose offer the best possibility of achieving that.
Don't Discount Local Shows
Larger than life trade shows like MAGIC and ASD Market Week offer unbeatable product selections and educational opportunities. But, retailers can also find excellent product assortments and educational opportunities at smaller regional trade shows. Smaller shows are often a great opportunity to source from local suppliers and buy from other small businesses in your area. Many of the products are often unique or handmade. Plus, you'll save on travel expenses.
Take Advantage of Travel Deals
No matter if you're travelling near or far for a trade show, always take time to scope out the best deals. Most trade shows negotiate lower room rates with hotels near the show venue. Trade shows can be exhausting, and having an affordable room within walking distance is often the way to go. But, before booking, look on budget travel sites to make sure you're getting the lowest rate. Also consider AirBnb if the conference has residential areas nearby.
Make a Plan
Don't let your travel plans be the only thing you schedule ahead of time. Trade shows are people, vendors, and events. It's easy to get pulled in different directions when you're there. Without a plan, you may find that those few days fly by without securing the products or information you really came for. Mark down the events and educational seminars that are your must-attends. Then, schedule appointments with your must-see vendors. This way, you know you will cross all of the items off your to-do list, while still leaving time to explore the show floor.
Don't Leave with Unfinished Business
Part of having a plan also means setting an open to buy budget. Having a budget helps you confidently place orders on the show floor. It's tempting to collect contact information and place all of your orders once you return home. But, speaking from personal experience, it will be hard to remember all of the exact details after the show is over. And, it'll be even easier to put off the orders once you're home.
Avoid entering the holiday season scrambling to find that one product you liked from the show floor. Go into the trade show with a budget for items you know you want to buy, and a set budget for items you discover while you're there. Plus, many exhibitors offer show-only discounts. Purchasing while you're at the show will give you the best deal and prevent headaches or scrambling down the road.
Divide and Conquer
If you can help it, don't go the show alone. Bring along a business partner, employee, or family member to help you. Oftentimes, the number of appointments you need to make or vendors you need to see are simply impossible for one person to accomplish. Plus, you'll have another set of eyes to offer guidance or reassurance on new product purchases.
Use the Show's Guest Relations Team
The trade show team spends months, if not a full year, working to put together the show. They are familiar with the vendors and their products. If there's a particular product, style, or type of vendor you are in search of, they will be able to help you find what you're looking for.
Download the Show App
Honestly, don't skip this part. I download the app for every show before I attend. Most show apps have interactive maps of the show floor with search features to find specific vendors, which I find easier and faster than looking through a paper guide, especially when you're walking the show. Most show apps also have calendar features so you can see what's happening at any given time, favorite events you don't want to miss, and receive push notifications for show announcements.
Our annual trade show issue has hundreds of our favorite merchandise shows happening over the next twelve months. Also visit WholesaleCentral.com for an online listing of national, regional, and local shows happening every month. Visit blog.wholesalecentral.com for news and updates on trade shows throughout the year.