Tradeshow Resources
Purchasing products online is the most time-efficient method for holiday buying, especially if you already know exactly what you are looking to purchase. However, visiting trade shows allows retailers to get a better sense of current and upcoming trends, and be introduced to products and suppliers you might not otherwise find. Many of Independent Retailer's favorite gift trade shows have dates between now and November so you can round out your inventory for holiday 2016.
Urban Expositions
Urban Expositions is a national trade show management service, offering dozens of trade shows nationwide. A knowledgeable and passionate show team guides and builds each event to meet the demands of the market whether national, regional, or niche. "You can find things on the cutting edge of what's new," says Jhana Jordan of Urban Expo's trade shows. "But unless you're at a show, you don't see it."
Upcoming Dates:
Windy City Gift Show:
August 12 – 14,
Seattle Gift Show:
August 19 – 22,
Philadelphia National Candy, Gift & Gourmet Show:
September 11 – 13,
Portland Christmas Cash & Carry Show:
October 14 – 16,
Smokey Mountain Gift Show:
November 2 – 5,
Los Angeles Christmas Cash & Carry Show:
November 4 – 6,
San Mateo Christmas Cash & Carry Show:
November 18 – 20.
Website:
www.urban-expo.com
The Norton Shows
Norton Shows are approaching thirty years of wholesale cash-and-carry markets. "Our show is very viable," says co-owner Nikke Norton. "You have to be on your toes to always take advantage of the newest opportunities," she continues. The Norton Shows do just that, offering a diverse selection of new and returning exhibitors at every show, including many handcrafted and unique accessories.
Upcoming Dates:
September 10 – 12,
November 12 – 14.
Website: www.nortonshows.com
Parker Trade Shows
Over thirty years of experience has lead Parker Trade Shows to become one of the premier gift and jewelry trade shows in the Southwest. Their regional show offers low pricing from hundreds of manufacturers, designers, and wholesalers, including many new products. Their well-organized show offers a fun and beneficial experience for all buyers. "We focus on providing the best variety of products," says Rock Jacobson of Event Show Management, parent company to Parker Trade Shows. "And in addition to the best products, we want the best experience."
Upcoming Dates:
September 16 – 18,
November 18 – 20.
Website: www.parkertradeshow.com
IGES®
The International Gift Exposition in the Smokies® is a wholesale order-writing only tradeshow with a focus on the gift and souvenir industry. They showcase nearly 600 exhibitors across over 1,200 booths in two locations in the Smoky Mountains. "IGES exhibitors include some of the finest custom craftspeople in the gift industry and their designs are among the most sought-after," says IGES show partner Susan Mills.

Upcoming Dates:
November 1 – 4,
November 2 – 5.
Website: www.iges.us
"People will always need to buy gifts," explains Allison Barrows, vice president of Gift and Home Trade Association and senior director of sales and marketing for Ganz Gift Company. "There are always birthdays, anniversaries, weddings, holidays, and personal celebrations. The gift industry is always changing, too — so as retailers we need to keep up." The retail industry is primed for success as we head towards Holiday 2016. This year, retail sales have seen steady year-over-year growth from 2015. Retail jobs have also spiked, indicating stability and optimism in the industry. Total holiday sales are expected to exceed last year's $626.1 billion. As you complete last minute and seasonal purchases to prepare for the holidays, keep in mind these changing trends and demographics:
Millennials
"Electronics, electronics, electronics," says Jhana Jordan director of buyer relations for Urban Expositions. "That is their key focus and passion. Look at how huge the millennial population and age group is. You have younger people buying for themselves and older millennials buying for their kids." Electronics and electronic accessories such as phone cases, portable phone batteries and chargers, tablet cases, headphones, charging cables, and car mounts are all not only millennial necessities, but also popular gift options since many people have multiples of each. "Think about it – where do you go where you don't see someone with a phone?" says Jordan.
Gen X
Generation X is the smallest of the age demographics, wedged between the baby boomer and millennial generation. Born roughly between the years of the early 1960s up until 1980, many Gen X'ers are family-oriented. Most of their purchases will be geared towards their children and families. In terms of receiving, members of Generation X love sharing memories and experiences with loved ones, so any thing travel, activity, or family themed will resonate with this age group.
Baby Boomers
If you are looking to reach the baby boomer audience, be sure to stock up on unique, memorable, and fair-trade gift items. "Baby boomers are becoming discriminating in their buying," says Jordan. For a generation who already has a lifetime of gifts and collectibles, they need something that really stands out. "This generation is looking into downsizing. What we're buying has to count and has to matter," continues Jordan. One example of this shifting mindset is the popularity of made in America products. "Made in America isn't just a trend anymore. 70% of people interviewed will buy Made in America over other products. In fact, any government agency, national park, etc. that taxpayers contribute to, at least 50% of the products they carry have to be made in America. It's really become a driving force," says Jordan. "When it comes to made in America, we're talking about jobs. Everyone in this generation knows someone who has been out of a job. This is something that boomers can relate to on a national level."
However, unlike the millennial generation and Generation X, electronics are not big sellers with the boomer generation. "There two parts to this," explains Jordan. "First, millennials and gen x'ers are reaching the peak in their careers and have more disposable income than boomers. Also, they are the ones who want to upgrade to the newest models as they are released. Boomers upgrade as they need to."
Children
"Educational gifts are dominating the children's market right now," says Jordan. With an increase in available educational technology, gifts such as virtual reality devices and tablets designed just for kids are becoming more accessible and affordable. However, classic toys such as books, puzzles, interactive dolls and figures, and of course, Legos are all still best sellers. "Legos are definitely still a leader," says Jordan. "Also whatever comes out on the movie screen will be big with children at that time."
Home Décor
Home décor is always a popular gift category whether for the holidays or year-round. According to Barrows, it's important to consider items that will "add 'pop' to a room rather than clutter." Timeless trends such as nature-inspired colors and patterns, unique mix of materials, and for children décor items that will grow with them are all popular options. Right now, "collectibles are making a comeback in all ages," continues Barrows, "and positive, inspirational designs such as mandalas and dream catchers are trending strong."
Gender neutral is also dominating. "Colors and materials that work in a single guy's loft or a cozy home with kids and pets are a major trend right now," says Barrows. Even slower-moving box stores such as Target are shifting towards gender neutrality. Between holiday grab bags and other group activities, gender ambiguous products are a must-have for gift retailers.

Booming Pet Industry
"Pet stores are very strong right now," says Jordan. "It's really interesting. There are more dogs than children in cities such as San Francisco so people are really spending a lot of money on their pets." Especially for the holiday season, for many families it is customary to include the furry family members in the gift-giving traditions. Right now, there is a lot of focus on health in the pet industry. Premium, natural foods are popular choices over less expensive, unhealthy options. Retailers are also seeing more investment from pet owners in the care of elderly and overweight dogs and cats.
When stocking last-minute holiday items, make sure to include a display or two dedicated just for pets. To drive revenue through impulse purchases, place smaller items such as pet-sized stockings, healthy treats, and toys by the register or checkout.
Savvy Consumers
In addition to favoring made in the U.S.A. products, consumers are also taking into consideration "where products come from and how they're made," says Jordan. "Of course people are price savvy, but now it's more than that. People are wondering what organization companies are donating back to. Before, no one would ask if something was fair trade. Now that matters to a lot of people."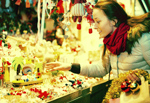 Independent retailers have the advantage over box stores when it comes to listening to the needs of your customers because as the owner or manager of your store, you can interact with your customers daily and listen directly to what they are saying. "Technology makes it easy to become disconnected with people," says Jordan. "But the retailer has the ability to be there in front of them face-to-face. A lot of these stores are bringing in unique gifts; they're listening when their buyers ask for natural or organic products. There's a lot more partnering, a lot more giving back. This all links back to building those relationships and providing great customer service. As a result, many of the independent retailers that I talk to say their sales are up."
Though it's important to listen to your customers, their needs, and their changing shopping patterns year-round, it's especially important to utilize your advantage as a front-line retailer when preparing for what is slated to be an immensely successful holiday season. "We had that slow, slump-y period," says Jordan, "But now there's a lot of change, a lot of new stores opening, and this is a time that retail can do really, really well." Stock a combination of unique made in America or natural products along with best-selling categories for each demographic. Consumers will recognize your store as the go-to destination this holiday season.