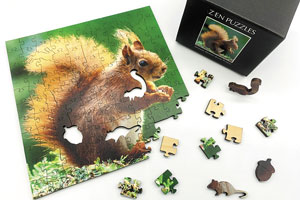 From its humble beginnings run out of a basement, Zen Puzzles is now a successful business-to-business and business-to-consumer company offering unique and timeless wooden puzzles the whole family can enjoy. Not only are they great gifts and impulse buys that can be placed near the register, these unique puzzles will also catch the eyes of consumers in any store.
High Quality Crafting & Design
Zen Puzzles handcrafts heirloom-quality and eco-friendly wooden jigsaw puzzles one at a time from start to finish in the foothills of Western Massachusetts. Each new puzzle gives shoppers the opportunity to slow down in this fast-paced world and create memorable experiences with their family. In designing their puzzles, the company honors the rich history of the wooden jigsaw puzzle in adhering to the traditional folk cut style of rows and columns. Their attractive, cohesive collection of individually interesting pictures include photographs of nature, animals, birds, nautical themes, and the brand's newest Fine Art collection, featuring famous paintings by artists including Van Gogh, Monet, Rousseau, and others.
There are five different sizes of puzzles that consumers can choose from:
Children's: Coming with 25-53 pieces, Children's Puzzles are great for kids.
Teaser: Coming with 50 pieces, the Teaser size retails for just under $20, making it the perfect stocking stuffer or impulse buy.
Small: Coming with 125 pieces, the Small size is best for beginners and gift giving.
Large: Coming with 300-400 pieces, the Large size is perfect for advanced puzzle lovers who need a little bit of a challenge.
Extra Large: Coming with 500-1,500 pieces, the Extra Large size is challenging, even for the best of puzzlers.
Eco Initiatives
Not only does Zen Puzzles contribute a portion of their profits to benefit environmental causes, but they also collaborate with non-profits and eco-friendly initiatives through creating special edition puzzles and other products dedicated to fundraising for those causes. The company also works hard to ensure their puzzles and packaging are as eco-friendly as possible, and use raw goods made entirely in the USA.
To view more of what Zen Puzzles has to offer, visit their website at zenartdesign.brightcloudstudioserver.com.
Zen Puzzles
South Deerfield, MA
800-215-6010