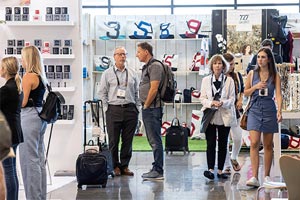 For their summer 2022 market, Atlanta Market is expanding sourcing and shopping opportunities in its 1,000+ temporary exhibits to create a dynamic and engaging trade show floor. Designed for discovery through the addition of new categories and showcases, as well as an extension of industry partnerships, this new and improved event will take place July 13-17 at AmericasMart Atlanta.
"With the Atlanta Market temporary exhibits returning to nearly historic size, we are curating the buying experience to enhance the industry's largest trade show offerings," Scott Eckman, International Market Centers (IMC) executive vice president, chief revenue officer, said. "This summer, that means creating new neighborhoods to showcase luxury brands and new-to-market exhibitors, partnering with industry organizations to create destinations for members, and showcasing the values-based brands that have joined the IMC universe this year."
New Categories and Showcases
Atlanta Market's 30+ gift and home décor categories expand in Summer 2022 with addition of two new categories — Boutique LUXE and Cash & Carry LUXE — and the creation of two new exhibitor showcases featuring up-and-coming gift and personal care brands. Boutique LUXE and Cash & Carry LUXE expand Atlanta Market's fashion accessories and jewelry offerings to feature a higher price point for order-writing and immediate sales as the category continues to trend across retail verticals.
The new exhibitor showcases will present some 25+ brands exhibiting at Atlanta Market for the first time. Presented in two shared areas on the trade show floor — personal care brands in Body & Soul and lifestyle brands in General Gift — the showcases are an opportunity for small brands to introduce products to buyers and ease into the Atlanta Market experience. Envisioned as a trend incubator, brands will graduate from the showcase into full booths after the Summer 2022 Atlanta Market.
Showcasing New Brands Through Dough
Values-based commerce will have a prime showcase on the trade show floor as a key element in IMC's plan to bring new voices and perspectives to its community of brands comes to fruition at the Summer 2022 Atlanta Market. Buyers can explore and place orders from some 12 women-owned brands identified by IMC's VP of Social Impact Vanessa Bruce in a new showcase located in the Building 3 atrium. The brands come to Atlanta Market via Bruce's Dough network of women-owned brands — encompassing health and wellness, apparel, accessories, skincare, home décor, and food and beverage — which was acquired by IMC in early 2022.
In Summer 2022, Atlanta Market temporaries will be presented Wednesday, July 13 – Saturday, July 16, from 9 a.m. until 5:30 p.m., and Sunday, July 17, from 9 a.m. until 2 p.m. ANTIQUES is open Wednesday, July 13 – Friday, July 15, from 9 a.m. until 6 p.m., and Saturday, July 16, from 9 a.m. until 2 p.m.
Atlanta Market is the industry's premier gift, décor and lifestyle market. Housing the nation's largest gift product mix complemented by a broad selection of home décor, it features more than 8,000 brands across all categories. Held semi-annually at AmericasMart Atlanta, Atlanta Market attracts retailers and designers from every U.S. state and more than 60 countries. For more information, visit AtlantaMarket.com.