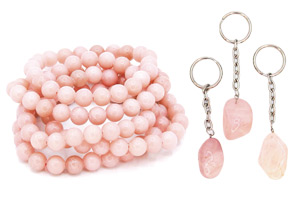 Sourced from all over the globe, SoulMakes offers gorgeous gifts and impulse buys that are perfect for any retail store. From awe-inspiring agate and quartz mines in Brazil to vibrant villages in India to their very own studio in ever-soulful Charleston, South Carolina, the brand's crystal jewelry and pocket treasures are sourced from amazing suppliers all over the globe.
Crystals & Gemstones Galore
Beginning in a basement apartment in 2012, this husband and wife duo started out making jewelry with crystals. Now, SoulMakes exclusively offers wholesale to boutique, tourist, resort, and general merchandise stores. Retailers can choose from crystal jewelry, larger gemstone decor items, gemstone and amethyst keychains, gemstone candleholders, and so much more. While they make for a great addition to metaphysical shops, any retailer can see success when offering these lovely pieces.
Best-Selling Gifts
Some of SoulMakes' best-selling products are their smaller gift items, which includes their bracelets, keychains, and small pocket carvings. This hot-selling merchandise can be easily placed near checkout counters, on aisle end caps, and in different sections around your store. There is a wide variety of colors and styles to choose from, making them great presents for both young adults and grown-ups.
New Products Added Daily
SoulMakes is constantly expanding their jewelry offerings, adding new products to the website daily. The company has so much to offer, that it cannot all fit online. Retailers can call SoulMakes at 888-880-7547, extension 2, or email them to hear about exclusive items that cannot be found on the website. The brand also plans to offer more larger decor items later in the summer.
To apply for a wholesale account and get started selling SoulMakes gifts today, fill out and submit the form on their website at wholesale.soulmakes.com/account/register. The minimum order for retailers located within the U.S. is $100, $200 for retailers located in Canada, and $300 for international retailers. Unlike other suppliers today, SoulMakes prides themselves with their extremely fast shipping times. Once your order is submitted, they can have your merchandise shipped within the next 24-48 hours. In a world full of constant supply chain woes, you can rely on SoulMakes to deliver.
SoulMakes
Shop from their warehouse:
1750 Signal Point Rd, Unit 6J
Charleston, SC 29412
M-F 9am to 4pm (by appointment only)
wholesale.soulmakes.com