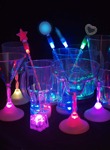 FLASHING PANDA offers a line of a dozen different sizes and styles of clear barware that light up in color. Known for a large selection of light up novelties, the company also wholesales light up ice cubes and drink stirrers.
Among the styles in the barware line are 28 and 16 ounce beer mugs, rocks/whiskey glasses; champagne flutes, wine and margarita glasses, pilsner glasses, a cola cup and martini glasses. All are of clear acrylic, and all come with batteries, which are replaceable. The base flashes, causing the entire glass and its contents to light up. In some cases, the units flash a rainbow of colors, and in others, there are seven different modes, including on/off, five individual colors and a slow changing rainbow flash mode.
Units are sold in mini lots of 24 units, all of the same design, and in full cases containing either 48 or 100 units of the same design. The wholesale cost for a mini lot of 24 rocks/whisky units is $48, or $2 a unit. A mini lot of martini glasses wholesales for $52, and a mini lot of margarita glasses wholesales for $63. The wholesale prices are lower with case lot orders. The suggested retail price ranges from 50 percent above wholesale to double wholesale, depending on the retail venue and market.
The barware is designed to be sold at retail in single units. It is also popular among party planners and for corporate events. A lot of 12 different styles of light up stirrers wholesales for $21.95. The flashing color ice cubes are freezable. The company's best seller is a tear drop key chain flashlight that is said to be extremely bright and durable. The minimum order is a fishbowl display of 48 units that wholesales for $59. On orders of a case of 12 fishbowls, each containing 48 units, the wholesale price per unit is under $1. The suggested retail is $1.99 to $2.99.
For more information, contact the following company or click wholesale on its website:
Flashing Panda
184 East Sunnyoaks Avenue
Campbell, CA 95008
Toll Free: 877-357-2632
Website: www.flashingpanda.com