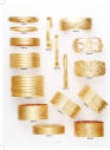 What started in a garage 27 years ago as an offshoot of a small retail business has blossomed into a worldwide operation for Goldfather's Jewelry of Las Vegas. "We now have a 5,000-square-foot warehouse, and customers in the U.S., Australia, Canada, Germany and Spain, among others," says Goldfather's manager, David Pemberton. The company specializes in wholesale jewelry at greatly discounted prices for a number of different types of retailers. "We sell to malls, flea markets, mom & pops, and brick & mortar stores," Pemberton says. "With more than 10,000 different items, we're confident we have what retailers want," he adds.
Goldfather's has a wide variety of items in gold, and, according to Pemberton, "and about 80% of our products are available in Rhodium as well," a durable base metal, silver in color, that doesn't tarnish. Right now the company's perennial best sellers are its charms and chains, but it also has an extensive array of earring and rings, as well as items in Cubic Zirconium.
For those looking to test the waters without a big commitment, Goldfather's only requests a $100 minimum order for first time customers, and also has starter kits available. "Our ring trays wholesale for $200 and come with 72 rings, so each ring is less than $3. But the rings retail for $15 to $25, giving the retailer a nice return," Pemberton says. "Bracelet trays come 12 to a tray and are only $99 complete, but each one sells for $25 to $35 each," he adds. Goldfather's backs all its products with a lifetime guarantee, and has all its products available for review online at its website, goldfathers.com.
For More Information:
Goldfather's Jewelry
3230 E. Flamingo Road, 8-354
Las Vegas, NV 89121
Tel.: 702-891-8836
Toll Free: 800-642-2545
Website: www.goldfathers.com