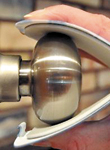 There are plenty of germs lying in wait in public restrooms, including streptococcus, staphylococcus, E. coli and shigella bacteria, hepatitis A virus, and the common cold virus. However, if a person's immune system is healthy and they adopt simple hygienic measures, most germs can be avoided. With the average adult catching two to four colds a year, no one wants to take a chance, and most go for the paper towels when it comes time to turn the bathroom doorknob. Roger Wilson, inventor at heart and manager by day of WillSpeed Technology, is one of those paper towel users. "I thought there had to be a better solution. I was sick and tired of grabbing door knobs that were covered in germs and relying on the paper towel to do the job," he says. As a result, Wilson formed WillSpeed Technology in 2011, with the mission to offer a fresh perspective on ideas for unmet needs. One of his fresh ideas was the Grabzz Card, part of the GermBloc product line.
Grabzz Deters the Spread of Germs
The patent-pending Grabzz hinged card technology is a compelling answer to the spread of germs and disease. The flexible plastic works as a personal barrier between your hand and possible germ carrying objects encountered daily. In addition to barrier protection, Grabzz is treated with an effective EPA registered antimicrobial coating, and comes with replaceable pads, which are affordable and easy to replace. "Most of us rely on precautionary methods like washing our hands or using hand sanitizers. However, Grabzz offers an absolute solution that works every time," notes Wilson. The plastic hinged card is flexible, and with the help of the foam grip pads, it can open or handle almost anything, including doorknobs, latches, toilet flushing, sink handles, and gas pumps.
The Grabzz Card, positioned as an impulse buy, works in a broad spectrum of retail stores, especially those selling health products. While the wholesale price is still being determined, Wilson is hoping to sell each Grabzz Card at $5.99 or $6.99 retail, and providing the retailer with at least a 40 percent profit margin. No minimum order has been established, but volume discounts are likely after the final retail packaging has been selected. "We are looking to sell it individually or in packs of three," says Wilson. "There will also be designs to match all personalities, as well as GermBloc accessories for the Grabzz Card. Among them will be a retractable cord reel to attach the card to a purse or pocket for easy access." By touching just 10 doors a day, the average person will be exposed to 25,000 germ covered surfaces a week. Everyday preventative actions, like using the Grabzz Card, can help slow the spread of germs that cause many illnesses.
For more information:
WillSpeed Technology, LLC
Tel.: 208-283-5702
Website: www.willspeedtech.com