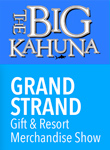 By Amy Dufour
Affectionately known as "The Big Kahuna," the Grand Strand Gift & Resort Merchandise Show is the nation's largest and longest running coastal souvenir and resort trade show. Serving coastal, beach and specialty gift and resort retailers for more than 35 years, the show continues to attract the best selection and top-name brands that appeal to vacationing consumers of all ages.
New for 2017
Urban Expositions has added many first-time exhibiting companies, including: Abaco Polarized, Aerosoft Footwear LLC, Aunt Bee'z Delicious Desserts, Beantown Brand Apparel, Brainstorm Products, Cape Shore, Cool-Arm Chair Arm Covers, Coral Safe, Custom Cordage LLC, Durand & Co, LLC, Feifish, Leather Impressions Inc., Mason Jar Label Clothing, Mr. Sandman, National Cap & Sportswear, Nautical Tropical Imports, Orchid Island Creations, Rachel Screen Printing, Shore Bags, LLC, Southeast Marketing, Souvenir Source, Studio G, The Handcrafted, Tormenter Ocean, and Woodstock Chimes.
Retailers interested in seeing the full listing of exhibiting companies, can simply visit www.grandstrandgiftshow.com.
Product Trends for Retailers
Perfectly timed so you can plan and buy during the off-season, attending buyers will find the best selection of established lines, top sellers and breaking new product introductions from proven gift and resort manufactures and sales representatives. Multi product categories include coastal and nautical theme products, home accessories, tabletop, souvenirs, beach items, resort wear, t-shirts, general giftware, gourmet, logo products, fashion accessories, shell items, toys and games and much more.
Extra Buyer Resources
1) Pre-register online for your 2017 Grand Strand Gift & Resort Merchandise Show ExpressPass™ by November 15 for a chance to win a free hotel night during the show!
www.grandstrandgiftshow.com | 800.318.2238 USE PROMO CODE: GRANDSTRANDIR
2) Goody Bag Giveaways on Sunday and Monday Morning. The first 100 retail stores to arrive at the show on Sunday, December 3rd and Monday, December 4th will receive a special tote bag filled with free gifts and product samples from many of the show's exhibitors.
3) Daily gift basket raffles. Registered buyers can enter to win one of our exhibitor sponsored gift baskets. Pick up an entry form onsite at the registration desk, fill it out and drop it off in the ballot box located in the ballroom. Show management will contact the winner by phone at the end of each day.
4) Monday night show party at Oz The Experience. Mix and mingle, enjoy complimentary hors d'oeuvres, drinks and music after the show during the Grand Strand Gift & Resort Merchandise Show party. Join the fun at the Oz The Experience from 6-8 pm on Monday, December 4th. — just wear your show badge for admission.
The Grand Strand Difference
"The Grand Strand Gift & Resort Merchandise Show is the must-attend annual event for everyone in the coastal souvenir business," says Sonya Lowe, show director, Urban Expositions. "Coastal, beach, resort and specialty gift retailers know they will find the best selection of established lines, best-sellers and breaking new product introductions all under one roof, all while enjoying networking in a casual, relaxed show setting."
Grand Strand Gift & Resort Merchandise Show
December 3-6, 2017
Myrtle Beach Convention Center, Myrtle Beach, SC
www.grandstrandgiftshow.com | 800-318-2238