Great Lakes Wholesale and Marketing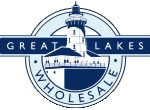 3729 Patterson Avenue, SE
Grand Rapids, MI 49512
Tel.: 616-261-9393
Website: www.glwholesale.com
The Line: This 25 year-old company, Great Lakes Wholesale and Marketing, was founded by retailers who grew up in the grocery industry, but realized there was an opportunity in closeouts and liquidations. When customers began asking for more consistency in products, the company started developing its own brands and lines. The vast majority of what Great Lakes carries are, "continuity items," those goods that retailers order again and again because they know they'll sell. The company sells popular items by the pallet load, but because their case sizes are smaller than their competitors, they can offer more goods per pallet shipped.
Minimum Order/Pricing: According to Gary MacDougal, chairman of the company, most minimum orders are around $800 to $900, plus a delivery fee. It all has to do with the cost of freight, so he recommends customers order at least a pallet to help get their moneys' worth. "Our case size is smaller than others, so the customer can get a larger number of choices," MacDougal says. "We even have a few customers in Africa. They buy container loads of products, and each container costs about $30,000 wholesale, but they can at least double that at retail," he adds.
Special Features: A significant percentage of Great Lakes' items retail at a dollar, and wholesale for no higher than 72 cents, with many other items at lower prices. In addition, the company has focused its website with different ordering options for customers. The order status reads where it is in the system, similar to what Amazon.com does, and contains carrier tracking information and more. This way, the customer can track the carrier and order directly. The website is also updated daily with new inventory arrivals.
Management Says: "We have a few thoughts for retailers to consider when opening a new store," MacDougal says. "One common theme we keep seeing, is that successful people tend to go big with square feet and the number of locations, so we recommend they try to open two stores at once," he adds. "We think it's because they're spreading their management and buying expertise over a larger operation. Good buyers and good managers get to leverage that strength via square footage. Larger stores tend to do better."