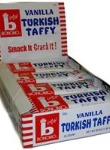 With the demand for retro products at an all-time high, Ohio-based Groovy Candies is perfectly situated to fill a growing need. "We started back in 1999 with the simple idea of promoting some candies we grew up with as kids," says Nick Marra, president of the company. "We brought back Atomic Fireballs, Pumpkin Seeds, Candy Cigarettes and a few other items, and it just took off," he recalls. The company also got a boost after being featured on the "CBS Morning Show" with Bryant Gumbel. "Once that hit, orders came pouring in," Marra says.
Initially offering a collection of candies from the 1960s, demand soon increased from various demographics for similar collections for the 1950s, the 1970s and the 1980s. "We started off with about 20 different candies, and we now carry more than 2,000 products," Marra says. Groovy Candies markets to a wide variety of clients including hotel caterers, wedding and event planners, commercial real estate owners that put bowls of products out for customers, and independent retailers looking for retro products for their lineups. "We also do some retail selling online, mostly to 'snowbirds' looking for the candy of their youth," Marra says.
Wholesale pricing on the products varies depending on quantities and volume, but most retailers are getting keystone and more, Marra notes. "The current best seller is probably Bonomo Turkish Taffy," he says, " but we also get a lot of calls for the classic Atomic Fireballs and Lemonheads as well." Groovy Candies can also provide candy by theme colors, which is important for wedding planners or schools holding 'theme' events. While no particular POP displays are available, much of the product comes in its own display jars for fast recognition by customers.
Always innovating, Groovy Candies is about to bring back the classic favorites Astro Pop, Black Cow and Slo-Poke candy bars, among others. The company also encourages retailers to check its Facebook page often, as it posts monthly coupon codes for even greater discounts. "We pride ourselves on our customer service," Marra says. "We personally man the phones all day long. Because we think it's important to stand behind our product."
For More Information:
Groovy Candies
7480 Brookpark Road
Cleveland, OH 44129
Tel.: 216-472-0206
Toll Free: 888-729-1960
Website: www.groovycandies.com