A press release from the National Retail Federation.
Once again, Americans are looking forward to splurging on their favorite candy, costumes and decorations during the Halloween season. According to the National Retail Federation's annual survey conducted by Prosper Insights & Analytics, total spending for Halloween is expected to reach $9 billion, the second highest in the survey's 14-year history. The figure is relatively the same as last year's previous record of $9.1 billion.
Celebrants are planning to spend an average of $86.79, up from last year's $86.13, with more than 175 million Americans planning to partake in Halloween festivities this year.
"The economy is good and consumer confidence is high, so families are ready to spend on Halloween this year," NRF President and CEO Matthew Shay said. "Retailers are stocking up to supply children, pets, and adults with their favorite decorations, candy and costumes for the season."
According to the survey, consumers plan to spend $3.2 billion on costumes (purchased by 68 percent of Halloween shoppers), $2.7 billion on decorations (74 percent), $2.6 billion on candy (95 percent) and $400 million on greeting cards (35 percent).
Among Halloween celebrants, 70 percent plan to hand out candy, 50 percent will decorate their home or yard, 48 percent will wear costumes, 45 percent will carve a pumpkin, 32 percent will throw or attend a party, 30 percent will take their children trick-or-treating, 21 percent will visit a haunted house and 18 percent will dress pets in costumes.
Pet costumes continue to gain popularity, with nearly 20 percent of celebrants planning to dress their pets in costumes this year up from last year's 16 percent.
"One of the biggest trends this year is the growth of spending on pet costumes," Prosper Insights Executive Vice President of Strategy Phil Rist said. "Out of the 31.3 million Americans planning to dress their pets in costumes, millennials (25-34) are most likely to dress up their pets, the highest we have seen in the history of our surveys."
When looking for inspiration for the perfect costume, 35 percent of consumers will look online, 29 percent will look in stores, 19 percent will ask friends and family, 19 percent will look to Pinterest and 16 percent will look to Facebook; 16 percent will be influenced by pop culture and 15 percent by YouTube.
For buying costumes and other Halloween supplies, 45 percent of shoppers will visit discount stores and 35 percent will go to a specialty Halloween store or costume store. In addition, 25 percent will visit department stores, 24 percent will buy online and 24 percent in grocery/supermarket stores.
Top Costumes
More than 3.8 million children plan to dress as their favorite princess character, 2.5 million as their favorite superhero, 2.2 million as Batman characters, 1.9 million as their favorite Star Wars characters, and another 1.9 million will dress as a witch.
Costumes Ranked: Children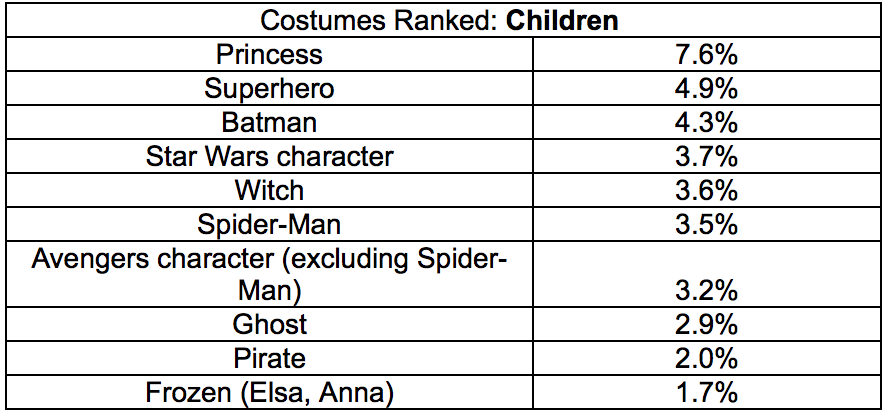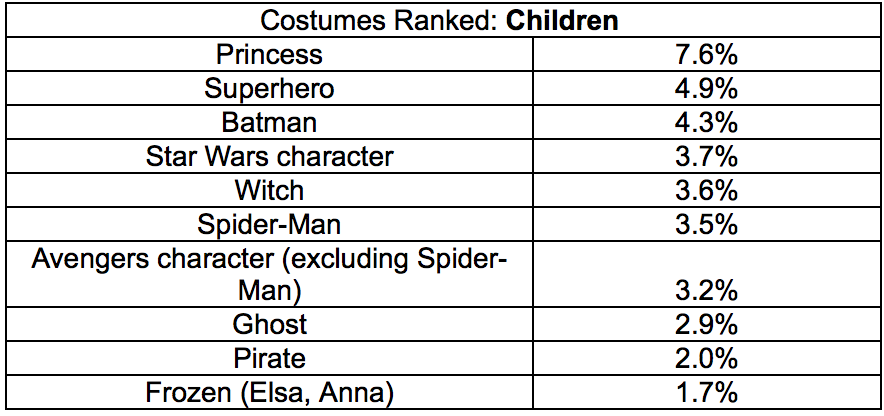 Halloween continues to be popular for adults as well, with half of celebrants (48 percent) planning to dress in costume this year. More than 7.2 million adults plan to dress as a witch, 2.5 million as a vampire, 2.1 million as a zombie, 1.9 million as a pirate, 1.3 million as their favorite Avengers characters such as Iron Man or Black Panther.
Costumes Ranked: Adults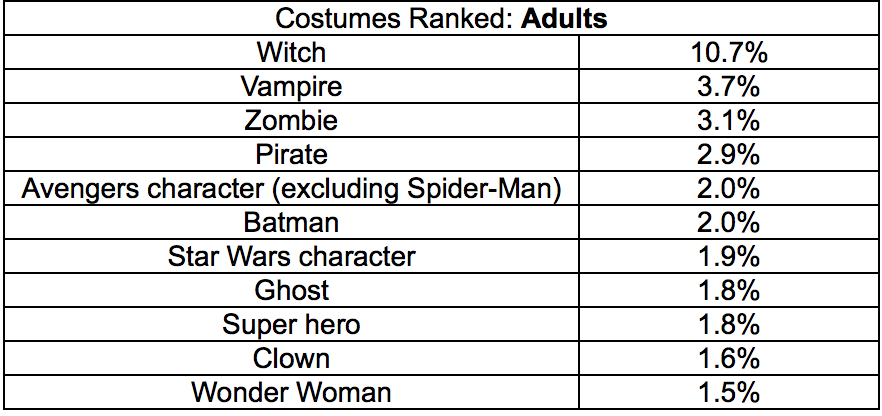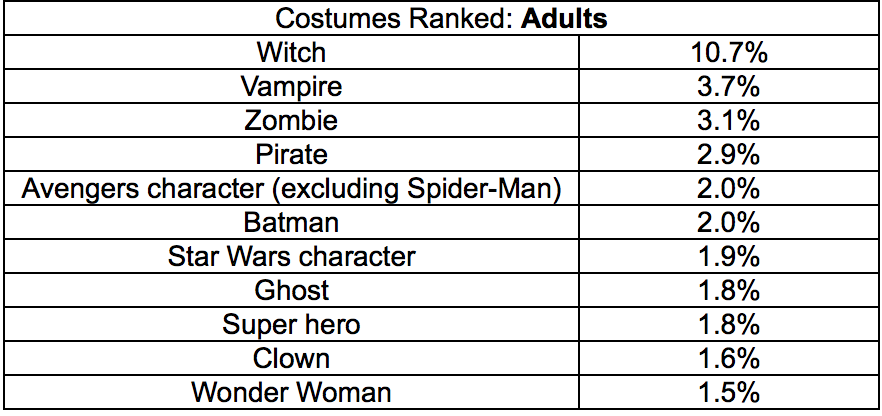 Pet lovers will also be dressing up their cat or dog for Halloween. Eleven percent of pet lovers will dress their animal in a pumpkin costume, while 7 percent will dress their cat or dog as a hot dog, 5 percent as a bumble bee and 3 percent as the devil.
Costumes Ranked: Pets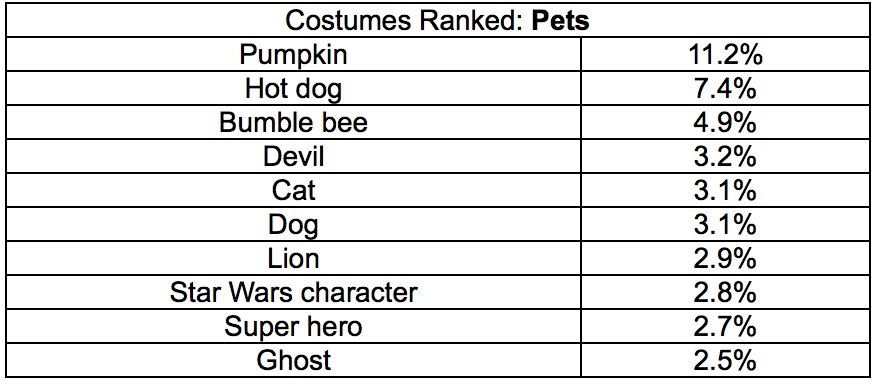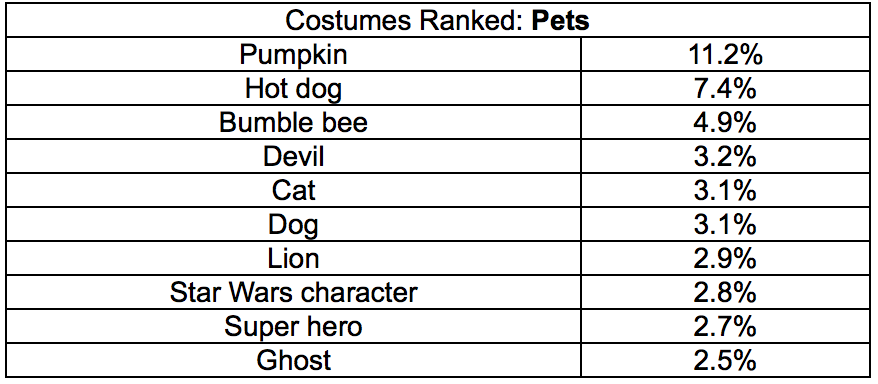 The survey asked 6,961 consumers about Halloween shopping plans. It was conducted September 4-12 and has a margin of error of plus or minus 1.2 percentage points.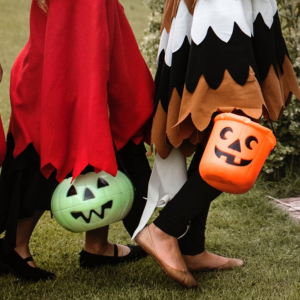 About Prosper Insights & Analytics
Prosper Insights & Analytics is a global leader in consumer intent data serving the financial services, marketing technology, and retail industries. We provide global authoritative market information on U.S. and China consumers via curated insights and analytics. By integrating a variety of data including economic, behavioral and attitudinal data, Prosper helps companies accurately predict consumers' future behavior to help identify market behaviors, optimize marketing efforts, and improve the effectiveness of demand generation campaigns. www.ProsperInsights.com
About NRF
The National Retail Federation is the world's largest retail trade association. Based in Washington, D.C., NRF represents discount and department stores, home goods and specialty stores, Main Street merchants, grocers, wholesalers, chain restaurants and internet retailers from the United States and more than 45 countries. Retail is the nation's largest private-sector employer, supporting one in four U.S. jobs — 42 million working Americans. Contributing $2.6 trillion to annual GDP, retail is a daily barometer for the nation's economy.