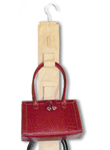 Master Craft Products Corp. has utilized its 20 plus years experience with direct imports, catalog companies and retail vendors in both the big box and independent sectors, to gain an understanding of product markets and current consumer products. This business intelligence has directly resulted in new and unique merchandise, including the patented creations, Handbag Hangup, Scarf Hangup and Cap Hangup, a high quality line of accessory organizers. According to StyleCareer.com statistics, women buy three handbags per year, own six handbags (or more over the age of 55), and spend between $40 to $65 per handbag purchase. If not the space saving function provided by the Handbag Hangup, handbag owners will like the hanging organizer as a way to keep their expensive purchases from accumulating dust and dirt.
Hangup Line Helps to Store Accessory Collections
And while women are showcasing a purse for every season, many men include the baseball cap as a basic in their wardrobe. Whether it be for a favorite sports team or dedication to an alma mater, men have their accessory collections too. "It's the shortcomings of other products in the market that led us to our Hangup line design. The quality product we sell is more than a storage item, it is a fashion item, available in colors and complementary to the handbags, scarves and caps its shows off and stores," emphasizes Jerry Murphy, president of Master Craft Products Corporation. It's those over-the-door plastic hangers that don't fit most sliding closet doors, or the vinyl hanging bags that tear easy and hold only certain size handbags, that Murphy is referring to when he says, "shortcomings." In contrast, Handbag Hangup is a strip of double layered denier polyester and cotton canvas, sewn together with turned in seams, for the appearance of immaculate stitching. Each loop has the quality of Velcro and can hold a 20 pound briefcase without tearing, as well as the seven intended purses. The steel hook at the top provides the needed support for the organizer when full.
Much is the same for the other Hangup products, with a few crucial differences. The Scarf Hangup provides magnet closures so as not to snag or damage silk and knit scarves, while also providing a loop that is big and strong enough to hold thicker and heavier scarves such as pashminas or a men's winter scarf. The Cap Hangup provides 12 loops, but can easily support three visors or caps per loop. There is also a Deluxe Hangup offer, which is double sided to hold handbags and scarves with a rotating hook, for ease of use without removing the unit from the wall or door. And while craftsmanship and selection alone drive retailers to invest in the Hangup line, the 65 percent profit margin is also a bonus. "A retailer can purchase a Scarf Hangup for $7 wholesale and sell it retail for $18.88. Double sided Handbag Hangups wholesale for $6.50 a unit and retail for $16.99," says Murphy. Retailers aren't required to meet large minimums. "All we usually ask is a one carton minimum. Scarf and Cap Hangups come as a dozen in one carton, and the single sided Handbag Hangup comes 20 in a carton, or retailers can receive the inner pack which holds only 10," Murphy adds. Pricing, shipping and displaying is easy, as each Hangup product comes in resealable packaging, so that it may be removed and used on the floor to showcase purses or caps that a retailer might also be selling.
For more information:
Master Craft Products Corporation
Handbag Hangup
PO Box 3144
Dana Point, CA 92629
Website: www.handbaghangup.com